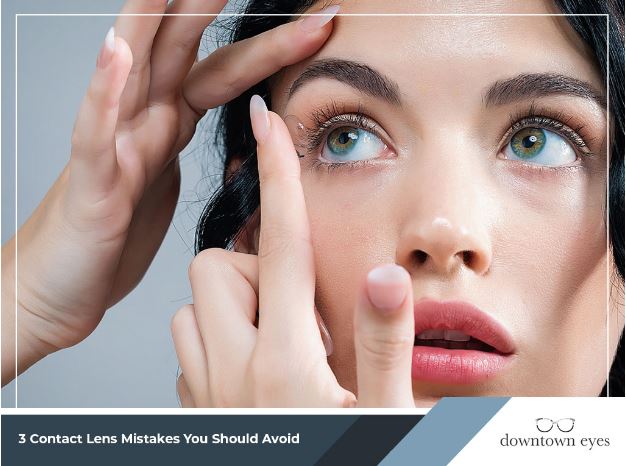 Contact lenses are among the safest and most effective corrective eyewear solutions available. Almost anyone can wear contact lenses. When prescribed by a reputable optician in Minneapolis, contact lenses are a safe and effective way to correct vision problems. However, failure to handle and care for your contact lenses properly can increase your risk of eye infection.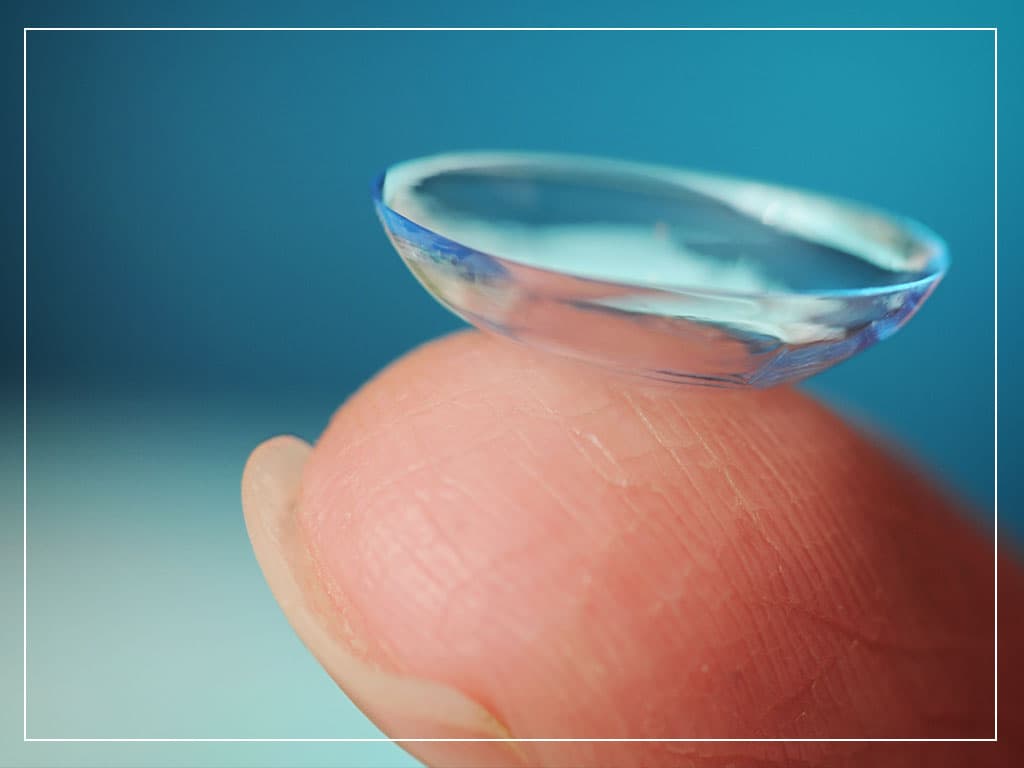 In today's article, Downtown Eyes discusses the most common contact lens mistakes and how to avoid them. We also explain how to properly take care of your contact lenses and provide tips to help you with everyday contact lens concerns.
Mistake #1: Not Following the Replacement Schedule
Studies have found that around half of disposable and frequent replacement contact lens users wear their contact lenses longer than recommended. These people wait until their contact lenses feel uncomfortable before replacing them. This is a big mistake. Doing this greatly increases the risk for eye infections. You should always follow your eye doctor's advice regarding your contact lens replacement schedule. Disposable contact lenses, for example, should be replaced every day.
Mistake #2: Wearing Your Contacts While Sleeping
Many types of contact lenses are not designed to be worn while sleeping. Even extended-wear contacts come with the risk of eye infection, which is why they should still be removed at least once a week. Leaving your contact lenses in overnight blocks oxygen from reaching your cornea. This can lead to corneal neovascularization and inflammation. Sleeping with your contact lenses can also cause you to suffer serious red eye.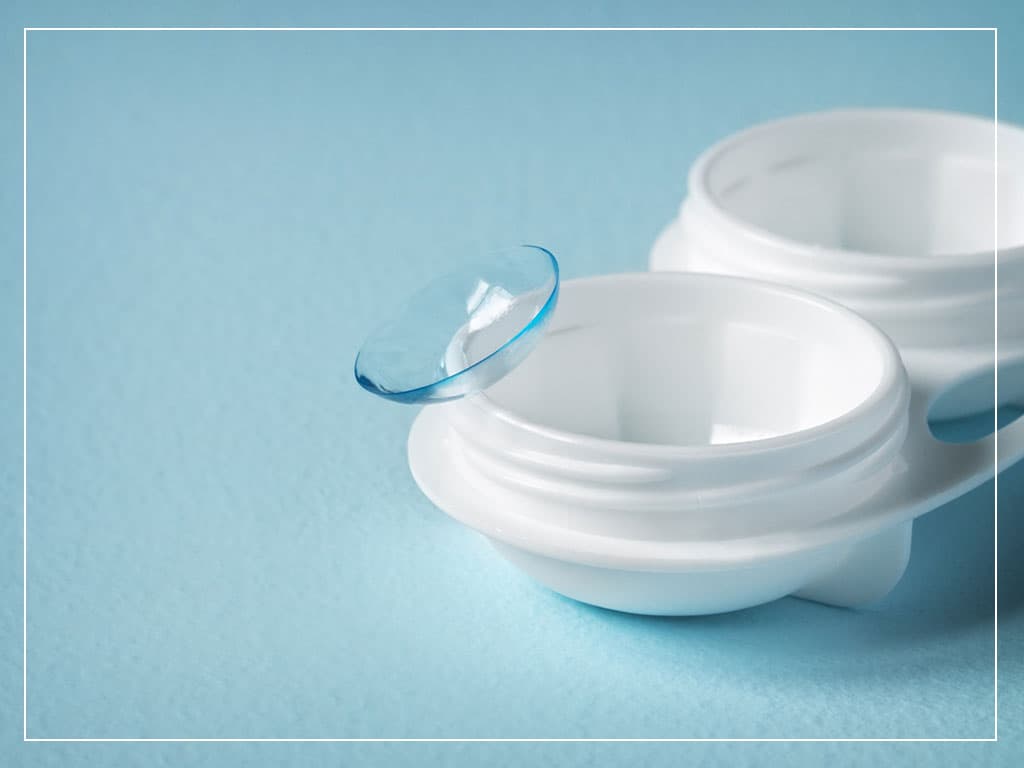 Mistake #3: Not Following Contact Lens Case Cleaning Guidelines
Always wash your hands before handling your contact lenses. The best and cleanest contact lenses will still cause infection if you handle them without properly washing your hands. You should also make sure to clean your contact lens case regularly and to replace it at least every three months. Failure to replace your contact lens storage case at the recommended interval can increase the risk of complications. After your eye examination, your eye doctor will teach you how to take care of your new contact lenses and contact lens storage case. Make sure to follow their instructions.
Mistake #4: Letting Your Contacts Touch Water
Wash your hands before you handle your contact lenses, but don't forget to dry them off first. Water can harbor harmful microorganisms that can be transferred to the contact lens, so always dry your hands with a clean towel before touching your contact lens. Contact lens-related eye infections can be serious but they are almost always preventable. Hygiene is the most important part of successful long-term contact lens use.
Contact Lens Safety Tips
The American Optometric Association recommends the following safety tips for contact lens wearers. Always wash and rinse your hands thoroughly with mild soap and water and dry with a lint-free towel before touching your contact lenses. Don't use lotion, hand sanitizers or oily cosmetics before handling your contact lenses. Before putting your lenses in your eye, examine them to be sure that they are moist, clear, clean and free of tears.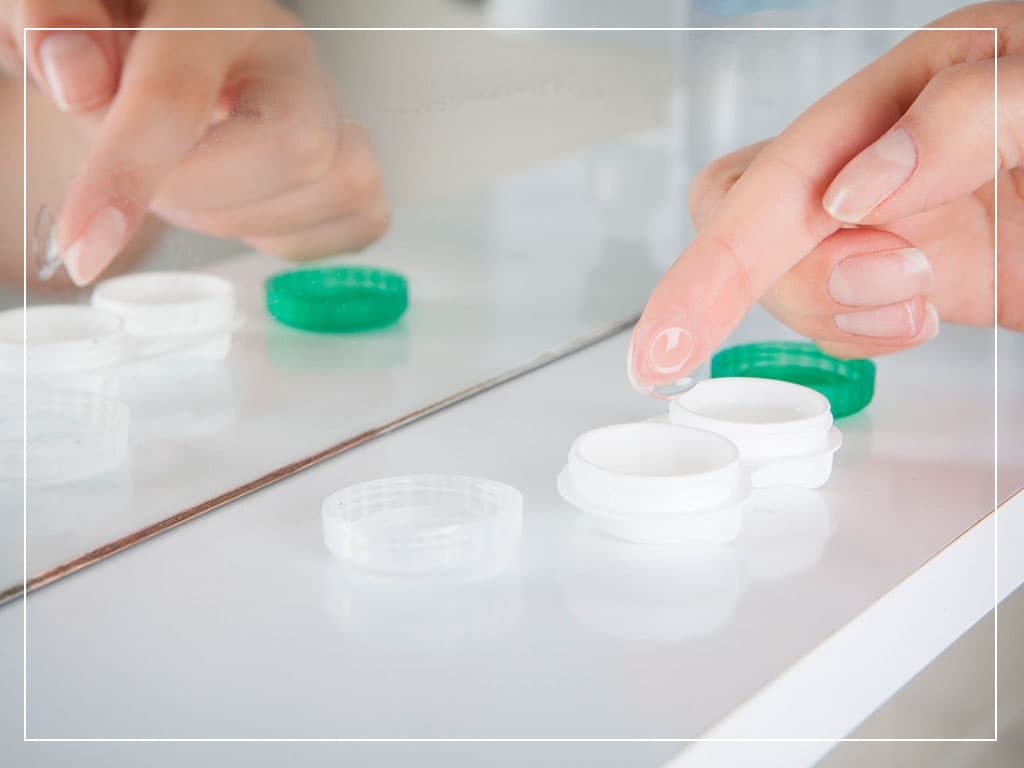 Always use fresh solution to clean and store your contact lenses. Never reuse old solution. Remove your contact lenses as soon as possible if you experience eye discomfort, vision changes or redness of the eye. Make sure to schedule a yearly comprehensive eye exam with your optometrist. Always follow their recommend contact lens replacement schedule.
How to Clean Your Contact Lens
Soft contact lens care is now easier than ever because of one-bottle care systems. First you need to wash your hands and then dry them with a lint-free towel. Remove one lens and clean it with the proper solution. This will remove eye-produced buildup and debris. Place the lens in the palm of your hand, apply a generous amount of solution and then gently rub the lens against your palm with your pointer finger. Make sure to use a back-and-forth motion.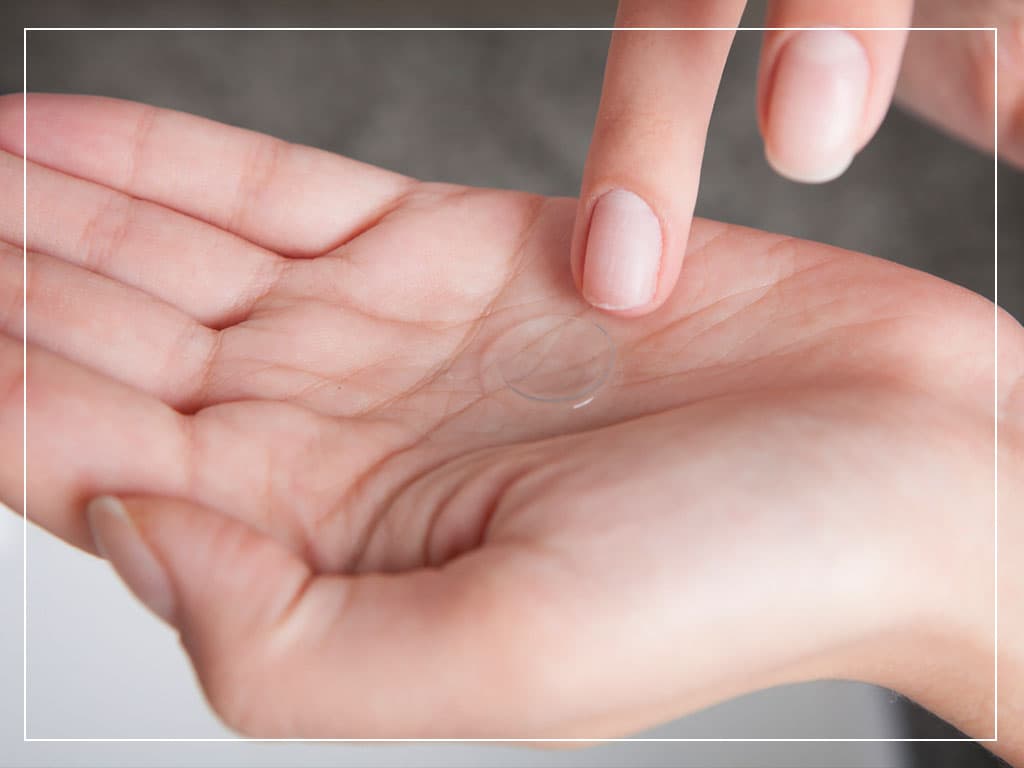 Don't forget to rinse the lens again to remove the loosened debris. Place the lens in the clean lens case and then fill the case with fresh solution. Do not top off the old solution. Always use new solution every time. The solution will disinfect the contact lens and kill microorganisms. Repeat these steps for your other lens. After your contact eye exam, ask your eye doctor to demonstrate how to properly clean and care for your new contact lenses.
Contact Lens Basics
Here are some basics you need to know about contact lenses before deciding to invest in a pair. There are five types of contact lenses based on the type of lens material they are made of: soft lenses, silicone hydrogel lenses, gas permeable lenses, hybrid contact lenses and PMMA lenses.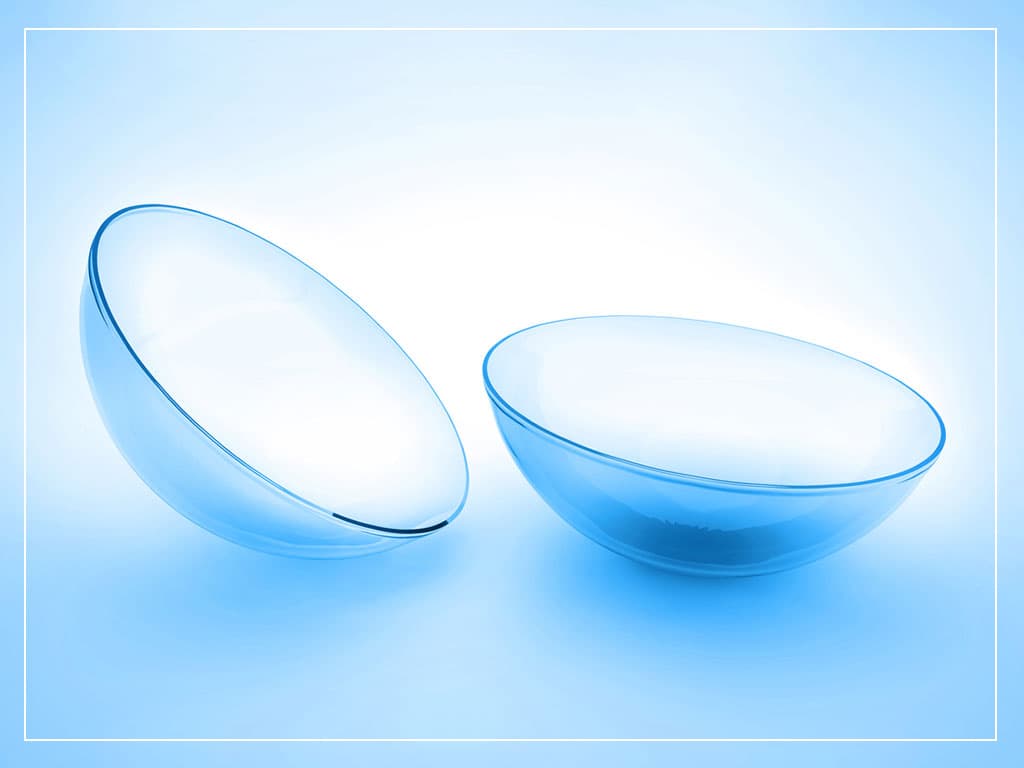 Soft lenses, also known as hydrogel lenses, are popular because they are more comfortable than hard contact lenses. Silicone hydrogel lenses are an advanced type of soft contact lenses that were first introduced in 2002. They allow more oxygen to reach the cornea. Gas permeable lenses are rigid contact lenses that allow oxygen to pass through them. They are more comfortable than traditional rigid contact lenses.
Hybrid contact lenses are designed to combine the benefits of silicone hydrogel lenses and rigid contact lenses. These lenses have a rigid gas permeable central zone that's surrounded by silicone hydrogel material. PMMA lenses are traditional rigid contact lenses. They provide very clear vision but they are difficult to adapt to and they do not transmit oxygen to the eye. These hard contacts are rarely prescribed today. Our eye specialist will recommend the best contact lenses for your specific needs during your consultation.
Contact Lens Types
Contact lenses can also be classified according to their replacement schedule. Daily wear contact lenses must be removed and cleaned nightly. Extended wear lenses can be worn overnight, but they should still be cleaned once a week. Soft contact lenses have different replacement schedules. Daily disposable lenses should be discarded after a single use. Disposable lenses can be discarded every two weeks. Frequent replacement lenses are discarded monthly or quarterly. Traditional or reusable contact lenses are discarded every six months or longer depending on the lens.
Contact lenses are also available in a variety of designs, depending on their purpose. Multifocal contact lenses can correct presbyopia, nearsightedness and farsightedness. Toric soft contact lenses can correct astigmatism. Cosmetic contact lenses can change your eye color. Certain soft contact lenses can also reduce the risk of contact lens-related dry eye symptoms. Some contact lenses can also protect your eyes from ultraviolet rays. We offer a wide range of contact lenses in our eye clinic, and we're sure to have the perfect product for your needs.
Reducing Contact Lens Discomfort
Finally, here are a few tips to help reduce contact lens discomfort. If you feel uncomfortable wearing your contact lenses, the first thing you need to do is to see your eye doctor. They can rule out the possibility that your discomfort is caused by a more serious problem. If your eyes feel dry when wearing contact lenses, over-the-counter eye drops might be the solution. Your eye doctor might also recommend switching to a new contact lens brand.
If your eyes burn when you wear your contact lenses, then you might be unintentionally contaminating them. Contact lenses retain substances they come into contact with, including lotions, soaps, cosmetics and oils. Make sure to thoroughly clean your hands before handling your contact lenses and use soaps that are free of moisturizers and perfumes. If your eyes become read or swollen then you need to stop wearing contact lenses immediately and contact your eye doctor for advice.
Downtown Eyes provides a wide range of high-quality contact lenses and eyeglasses for our patients. We are privately owned optometric practice and we utilize the latest technology to provide our patients with the highest-quality eye care. We adopt a personalized approach for every patient. Our friendly and welcoming staff is always ready to answer your questions and help you during your visit.