Also known as Digital Eye Strain, Computer Vision Syndrome refers to a group of vision- and eye-related problems resulting from the extended use of computers and other electronic screen devices. Typically, eye discomfort and vision problems are experienced when viewing digital screens for long periods, with discomfort levels appearing to increase in proportion to the amount of time spent using a digital screen.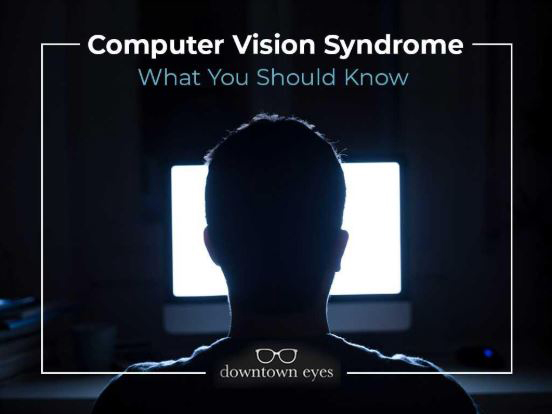 Symptoms
The most common Computer Vision Syndrome symptoms include:
Eyestrain
Blurred Vision
Dry Eyes
Headaches
Shoulder and Neck Pain
The extent to which these symptoms will be experienced will vary for every individual, often depending on their specific visual abilities and how much time they spend looking at device screens. Additionally, age-related eye changes (presbyopia), uncorrected vision problems (astigmatism, farsightedness, etc.) and inadequate eye coordination or focusing abilities can all contribute to visual symptoms development when computers or digital screen devices are used.
For many, visual symptoms are temporary, declining in frequency and severity after computer work or device use is stopped. Still, there are those who experience a continued reduction in visual abilities even after using computers or screen devices. If Computer Vision Syndrome is not addressed in these cases by an eye specialist, symptoms will not only continue to recur but may also worsen with computer or screen use in the future.
Causes
Usually, symptoms associated with Computer Vision Syndrome may be caused by:
Poor Lighting
Improper Viewing Distances
Digital Screen Glare
Poor Seating Posture
Uncorrected Vision Problems
A combination of these factors
Viewing computers or digital screens pushes the eyes to work harder, leading to high visual demands. This is because letters on screens are not as sharply or precisely defined as those on printed pages, reducing the contrast between them and the background. Not to mention screens usually require different viewing angles and distances, and have reflections or glare that make viewing troublesome. Combined with characteristics unique to computer and device use, this results into many individuals being susceptible to developing vision-related symptoms.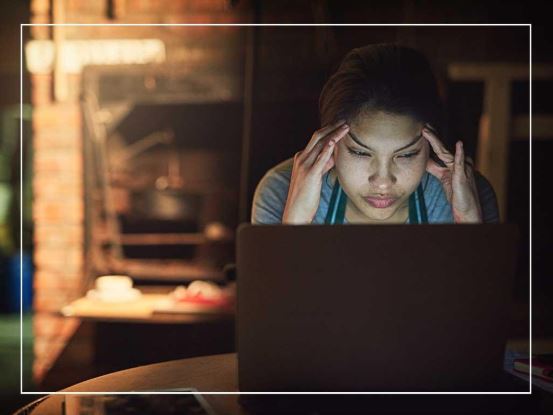 Even those already wearing eyeglasses or contacts may still find themselves experiencing discomfort because their prescriptions are not specifically designed for computer or device use. Those at greatest risk of developing Computer Vision Syndrome are those who spend at least two continuous hours at a computer or viewing a digital screen device daily.
Diagnosing Computer Vision Syndrome
To diagnose computer vision syndrome, a visit to an eye clinic is needed. Tests, with particular focus on the visual requirements of computer and screen device use, may include:
Visual Acuity Measurements – For assessing the current condition of an individual's vision.
Refraction – For identifying the appropriate lens power necessary to compensate for refractive errors present.
Checking how the eyes focus, work and move together – For looking for problems that prevent the eyes from effectively focusing or make it hard to use both eyes at the same time.
Tests results, alongside an evaluation of a patient's medical history to determine if symptoms being experienced may be related to environmental factors, other health issues or medications being taken, will help your eye doctor determine if you have Computer Vision Syndrome. In general, however, the condition can be expected when the visual demands of computer or screen device use exceed the visual abilities an individual has to comfortably address them.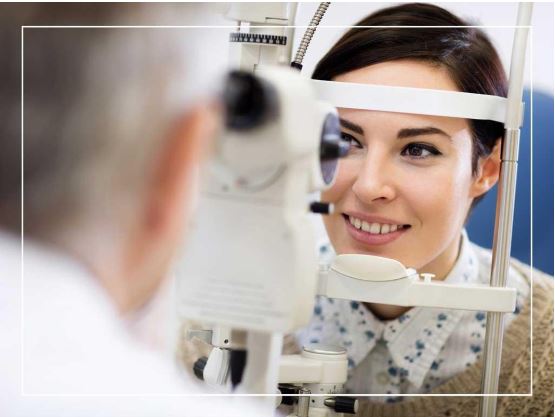 Treatment
Fortunately, Computer Vision Syndrome can be treated, with treatment varying depending on the severity of the condition being experienced. For best results, treatment requires the combination of regular eye care and changing how you view computer and device screens.
Take note:
If you're already wearing eyeglasses or contact lenses, you may be provided by your eye doctor with a new prescription specifically designed for screen use. This is because your general-use pair may not be providing you with the required help to boost your visual abilities and offset the demands of computer or device use.
Issues related to eye coordination or eye focusing can't be sufficiently corrected by eyeglasses or contact lenses, prompting the need for vision therapy. Also known as visual training, vision therapy is a structured program involving visual activities designed to improve visual abilities, training the eyes to work more effectively with the brain. It may include a combination of office-based sessions and home training procedures.
Preventing Computer Vision Syndrome
Inasmuch as it's possible to treat Computer Vision Syndrome, your best line of defense against the condition is still prevention. Just incorporate these little changes and you're sure to keep Digital Eye Strain at bay:
The 20-20-20 Rule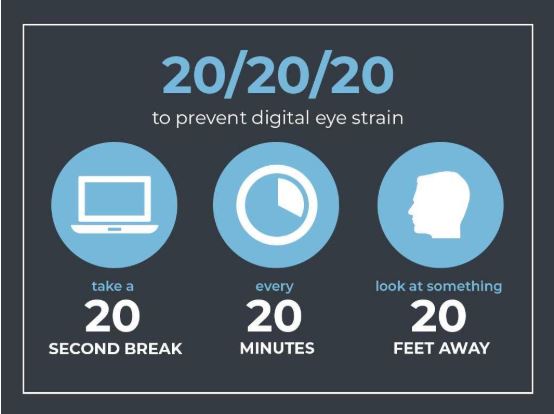 Take a 20-second break every 20 minutes and look at something 20 feet away. Looking far away is recommended because it relaxes muscles inside the eye responsible for focusing, reducing overall fatigue for the eye. If you are unable to take breaks every 20 minutes, you can practice frequent blinking instead. It won't have the same effect as the 20-20-20 rule but it will keep the front of your eyes moist, helping you ease discomfort and keeping dry eye at bay.
Proper Computer Use
A great deal of preventing Computer Vision Syndrome actually involves computers and how they are used, including monitor location, lighting conditions and seating position.Ideally, you should:
Have computer screens sitting about four inches below the eye level, as measured from the screen's center and 20 to 28 inches from the eyes.
Have reference material located below the monitor but above the keyboard or use a document holder beside the monitor to keep you from moving your head when going from document to screen and back.
Have computer screens positioned to avoid glare from overhead lighting or windows.
Have display settings set to reduce eye strain and fatigue, such as adjusting screen brightness to have it approximately the same as your surrounding area and adjusting text contrast and size for comfort. Typically, black texts on white backgrounds are best, but high-contrast, dark-on-light combinations also work well.
Have comfortably padded chairs that conform to your body at heights where your feet are resting flat on the floor.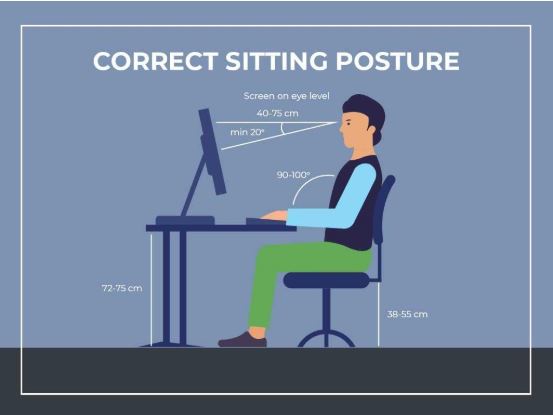 Regular Eye Exams
Coming in for routine eye checks is the most important thing you can do to prevent Computer Vision Syndrome. If you haven't had an eye exam in more than a year, you should contact your eye doctor right away to schedule an eye exam. According to the National Institute of Occupational Safety and Health, you should be getting an eye exam before you begin working on a computer and once every year thereafter.During an eye exam, make sure you tell your eye doctor how often you use computers for both work and leisure and the kind of conditions you use computers and other screen devices in to give them a clear picture of what could be affecting your vision.
Better Eye Care for Better Quality of Life
Don't let Computer Vision Syndrome get in the way! Given your eyesight greatly affects your well-being, it only makes sense then to invest in properly caring for it. You surely won't lack choices, but make sure you only go to trusted eye care specialists in your community. Whether you need help dealing with an eye condition or simply need assistance with general care, you can't go wrong with turning to the right experts for assistance.