Eye health is essential for physical and mental health, and investing in it can help improve your overall wellbeing. Because of this, it is essential that you visit your eye doctor regularly, or as often as your eye care provider recommends, to ensure your eyes stay clear and healthy.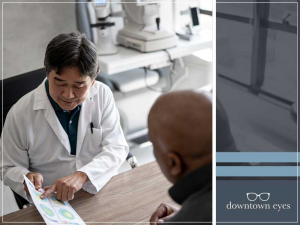 Everyone can benefit from having their eyesight tested for vision problems. If not in school, children usually undergo vision screenings at their health care provider's office during annual checkups. Similarly, adults often get their vision screenings during checkups, although they may also need comprehensive dilated eye exams.
What Is a Comprehensive Dilated Eye Exam?
Getting a comprehensive dilated eye exam is important because some diseases do not exhibit warning signs. During this exam, the pupil is dilated through the use of eye drops to let more light into the eye. When the pupil is small, the doctor can only see a limited view of the optic nerve and macula. But when the pupil is dilated, the entire retina can be seen. It allows the doctor to check common eye problems, such as age-related macular degeneration (AMD), diabetic retinopathy and glaucoma. This exam can detect diseases in their earliest stages.
Here are the eye tests included in this exam:
A visual field test to measure your peripheral vision. A loss of peripheral vision can be a symptom of glaucoma.

A visual acuity test to check how well you see objects at various distances. It entails reading an eye chart around 20 feet away.

Tonometry to measure the pressure inside your eyes. It is used to screen glaucoma.

Dilation to widen your pupils, providing a clear view of the tissues at the back of the eye. Your doctor will use a special magnifying lens to examine your eyes.
You will also have a refraction test if you have an existing refractive error, such as nearsightedness, farsightedness or astigmatism. During this test, you will look through a device that has lenses of varying strengths. Your eye care specialist will also determine which lens will give you the clearest vision possible after a contact eye exam.
5 Questions You Should Ask During an Eye Exam
Because health concerns are unique to each patient, you will want to develop questions about topics that are vital to you. But here are five general questions you can ask your eye doctor:
1. Are My Eyes as Healthy as Can Be?
Most times, patients ask if there is anything they can do to better care for their vision and overall eye health. If you have a disease like glaucoma or macular degeneration, your eye specialist will educate you on steps you can take to protect your vision over the long term. But even without a severe condition, it is incredibly beneficial to be proactive about your physical wellness. So, if improving your health matters greatly to you, make a point of it. Your doctor may present you with options you never knew existed.
2. What Are the Best Options to Correct My Vision?
There are times when doctors hold back from suggesting additional tests or improved glasses or lenses due to the transactional nature of the conversation. However, over 68% of patients say they expect their eye care practitioners to recommend the healthiest options regardless of the cost. The thing is, only you can decide how you will spend your money, so if you want to know if there is something better for you, inform your doctors about it. They will be more than willing to give you a list of the best vision correction options for your condition.
3. Are My Digital Devices Affecting My Eyes?
It is reported that more than 83% of Americans use digital devices for over 2 hours every day. Prolonged exposure to digital screens can lead to eye strain in both children and adults. Other common symptoms are dry eyes, blurred vision, headaches and even neck and shoulder pain. When you visit your eye specialist for an exam, he or she can offer you helpful tips for finding relief. These can range from changing lighting settings to updating prescriptions like eyeglasses to help alleviate the symptoms of eye fatigue caused by screen use.
4. What Steps Should I Take to Protect My Eyes?
Part of improving eye health is increasing eye safety. According to the Centers for Disease Control, more than 2,000 workers in the U.S. alone receive medical treatment due to eye injuries sustained at work every day. Talk to your doctor about the conditions in your workplace to find out if special eyewear is required. It is also important to take safety precautions against ultraviolet (UV) light. Many eye conditions have been linked to long-term exposure to ultraviolet radiation, including cataracts, macular degeneration, photokeratitis, cancers of the eye and skin surrounding it, and more. 
Sunglasses are typically the best defense you can give to your eyes, although there are also UV-blocking contact lenses that help protect against transmission of damaging ultraviolet radiation to the cornea. Ask about continuous wear options, especially if you fall asleep in your contact lenses. If you do not want the hassle of rinsing and storing your lenses every night, ask your doctor about disposable lenses instead.
5. When Is the Best Time for My Next Appointment?
Your eye care specialist will take into account your age, vision and medical history to determine how often you need an eye examination. Many offices will schedule your next visit right away. If not, you can set a reminder on your phone. Moreover, if your parent or child under your care goes to the same practitioner as you do, do not leave the eye clinic without making sure their eye exams are on the books as well. Staying on top of their eye health is essential for you and your loved ones.
Other questions that you can ask your doctor are the following:
What tests will we be doing today?

Is there anything about my family history that puts me at risk for eye diseases?

Are there symptoms to watch out for when monitoring my eye health?

Are there lifestyle changes that might lower my risk of getting eye diseases?
How to Take Care of Your Eye Health
A premier eye clinic recommends including these things in your daily routine to maintain your eye health:
Avoid rubbing your eyes. Hands are usually exposed to dirt, dust and bacteria. All of these unwanted materials can be easily transferred to your eyes each time you rub them.

Wash your hands frequently. By practicing frequent hand washing, you can keep bacteria at bay and prevent them from getting in contact with your eyes or eyewear.

Protect your eyes from the sun. It cannot be overstated how important it is to shield your eyes from the sun. If you are going to be outside for a long period, make it a habit to wear UV-blocking sunglasses or contact lenses. Putting on a wide-brimmed hat or a visor is also advisable.

Keep a balanced diet. Food groups rich in omega-3, lutein, beta-carotene and vitamins A, C and E are essential for preserving your eye health. Do not forget to hydrate yourself throughout the day to keep your eyes from getting dry and irritated.

Observe the 20-20-20 rule. To keep your vision clear and sharp, follow the 20-20-20 rule. It states that for every 20 minutes spent using a screen, you should look away and gaze at an object 20 feet away from you for 20 seconds.