It's normal to experience vision changes as you age. Fortunately, multifocal lenses have multiple focusing powers, allowing you to see clearly at varying distances. These lenses are ideal for individuals with more than one vision problem. Usually, they have a prescription for intermediate distances, nearsightedness and farsightedness. You'll know if you need them after visiting a specialist for an eye exam.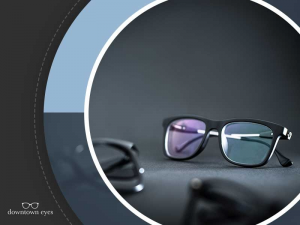 Read on to learn more about multifocal lenses. 
What Are the Types of Multifocal Lenses?
Bifocal Lenses
People who experience difficulties seeing objects at a distance and up close likely need bifocal lenses. You can use bifocals as reading glasses and vision correction eyewear. The upper half of these lenses contain the distance vision prescription, and the bottom half corrects farsightedness. 
Trifocal Lenses
Instead of two vision problems, trifocal lenses correct three. The middle part of trifocals correct intermediate vision and their upper and lower areas address farsightedness and nearsightedness. 
Progressive Lenses
Bifocals and trifocals contain lines that separate each section of the lens. Progressive lenses gradually change in power from top to bottom, giving users a seamless transition from one correction to the other. This type of multifocal lens is usually thinner and lighter than trifocals and bifocals.  
How Do You Know If You Need Multifocal Lenses?
Your optician or eye doctor might prescribe you multifocal lenses if you have trouble seeing both near and faraway objects. They may be recommended for individuals who experience eye strain or fatigue and headaches when reading or writing. If you need to hold reading materials at arm's length to see the text clearly or your vision's quality changes depending on the time of day, you might need multifocal lenses. 
Multifocals eliminate the need for switching between eyeglasses under different conditions — no more swapping different kinds of eyewear when driving, reading or going outdoors. They're a great option for people who want a smooth transition between lenses. However, if you're wearing them for the first time, it might take some time for you to get used to them. Once the adjustment period is over, you'll notice your vision is clearer while wearing progressive lenses, bifocals or trifocals. 
You can wear properly fit progressive eyeglasses for most activities. Aside from correcting farsightedness and nearsightedness, they can also help with astigmatism. Progressive eyeglasses do not contain thick, unattractive lenses–they're very sleek. Progressive lenses may also be more comfortable than other options since they are lightweight.
What Should You Expect While Wearing Multifocal Lenses?
How Your Eyeglasses Fit
Your eye doctor will need to take precise measurements when fitting you for your multifocal lenses to ensure your comfort. In the case of bifocals, they are positioned in line with your lower eyelid since this is where you typically look down to read. Trifocals need to be in a higher position to ensure the upper line of the intermediate section is in the same place. This allows wearers to see clearly when using both distance and intermediate vision. 
Improvement in Your Vision
You may intentionally need to move your eyes to different areas of the multifocal lenses to see objects at different distances. For instance, going down the stairs might be difficult for bifocal wearers since it requires looking down. The lower part of bifocal lenses helps you see objects up close. 
Some distortion or dizziness isn't uncommon in patients new to multifocal lenses. This discomfort occurs due to the different lens powers in their bifocals or trifocals. Expect these reactions to go away after a few weeks of regularly wearing your eyeglasses. 
It may also be necessary to hold your book, newspaper, or magazine or place your head in a certain position while reading. Doing so will allow you to focus your vision through the magnifying area of your multifocal lenses. 
How Long It Takes to Adjust to Multifocals
Among the most common symptoms patients experience when wearing multifocal eyeglasses for the first time are headaches, nausea, dizziness and depth perception problems. You might feel a swim and sway effect, be uncomfortable using the stairs, and have a hard time focusing between intermediate and near distances. It's also common for your peripheral vision to seem narrower initially.
The adjustment period for multifocal lenses can take up to two weeks. Consistently wearing your new glasses can help shorten the adjustment period. If you still experience discomfort while wearing your multifocal glasses after a few weeks, schedule an appointment for an eye examination. It could be your glasses don't fit correctly.
Adjustment Tips for New Multifocal Lens Wearers
Wear Your Eyeglasses Consistently
If you are new to multifocal eyeglasses, wear them consistently. This will allow your eyes to adjust quickly to the lenses. Wear them during the day and when you're going outdoors. People who wish to adjust more gradually, especially those who have never worn vision correction lenses in the past, can wear their bifocals and trifocals as needed. 
Change Your Reading Position
Holding your reading material at least 16 inches away from your eyes might help you see words more comfortably. Instead of the top part of your eyeglasses, gaze through the bottom as you read. You'll have to consciously train your eyes not to move significantly with your head while reading. Move the material instead of your head to see clearly. 
Avoid Looking Down While Walking
When you're walking with your new bifocals on, avoid looking down because your feet might look blurred. Going down the stairs might even be more challenging because the lower section of your bifocals magnifies objects, making them appear larger than they seem. If you need to look down, do it with your head titled down and focus your gaze on the top part of your eyeglasses. 
Consider Bifocal Contact Lenses
Luckily, multifocal contact lenses are available too. You can get them in bifocal, trifocal and progressive lenses. Patients have various options for multifocal contacts. For instance, in some contacts the near prescription is at the center of the lens, while the distance prescription is at the outer edge. Your eye doctor will know exactly which one best suits your needs. 
See Your Eye Doctor If You're Experiencing Continued Discomfort
Generally, you'll need more time to get used to glasses with multifocal lenses because of their varying magnification powers. You may find it even harder to adjust to your new multifocal eyeglasses if they do not fit you properly. It's essential to choose a skilled professional for your vision and eye care needs. 
An experienced eye specialist will consider the size and the shape of your face as well as the size of the eyeglass frame. The lens height matters most when it comes to fitting progressive lenses. If your new glasses don't fit you properly in the eye clinic, the issue won't get better when you get home. Ask your eye doctor to modify or adjust your glasses if they cause you pain or discomfort.