Your eyes allow you to perceive the world around you. They let you know if there's danger coming and enable you to read emotions. Without them, it would be harder for your brain to process information and deliver the right response.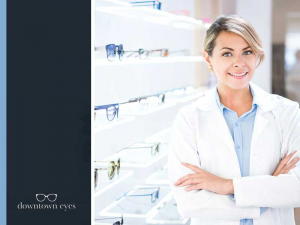 While the eyes are among the most important parts of your body, many people actually don't know all that much about them. Regularly visiting your local eye clinic is vital to preserving your vision and maintaining good eye health. Researching can also help you learn ways to better care for your eyes. Here are things eye doctors wish more patients knew about vision and eye health. 
Carrots Aren't the Best Food for the Eyes
When you were a kid, you've probably heard from your parents that eating carrots will help improve your eyesight. This vegetable contains a significant amount of beta carotene, which is essential for the production of vitamin A. While it's true that carrots are good for your eyes, dark, leafy vegetables such as spinach and kale are the cream of the crop when it comes to improving your eyesight.
Sunglasses Aren't Just Accessories
The sun's ultraviolet rays can contribute to cataracts, macular degeneration, pterygium and other eye problems. Wearing UV-blocking sunglasses can help reduce your risk of developing these eye conditions. Invest in a pair that with UVA- and UVB-blocking capabilities. Sunglasses don't just make you look more fashionable but also shield your eyes from harsh elements. 
If you love doing outdoor activities, make sure you have a good pair of sunglasses. They will protect your eyes from the sun, dirt, dust and other debris. Quality sunglasses can also protect from the glare that reflective surfaces produce. Excessively bright light and glare can result in headaches and migraines. You won't have to suffer from discomfort and headaches with high-quality sunglasses. If you recently had eye surgery, sunglasses can keep your eyes safe from UV rays, heat and debris. 
Where You Keep Your Eye Drops Matter
Do your eye drops sting each time you use them? Using eye drops will be more comfortable if you store them in your refrigerator. Be sure to check expiration dates because some products are meant to be disposed of after 14 days. Also, don't forget to read the directions on the bottle or packaging. Some eye drops are not safe to be used along with other medications. If you experience an adverse reaction after applying eye drops, contact your eye specialist immediately. 
You Shouldn't Take Pink Eye Lightly
Pink eye occurs when the conjunctiva, the transparent membrane lining the eyelid and covering the white part of the eye gets infected. The redness happens due to the inflammation of the small blood vessels in the conjunctiva. A virus, bacteria or allergic reaction can cause pink eye.
Sufferers may experience itchiness, tearing, redness and a gritty sensation in one or both eyes. Discharge can also come out in one or both eyes, forming a crust while you sleep and preventing you from comfortably opening your eyes when you wake up.  
While conjunctivitis usually goes away on its own and doesn't typically affect your vision, you should still seek the opinion of your eye doctor. You need immediate attention if you are experiencing severe pain, blurred vision, light sensitivity and a feeling that there's something in your eye. If you have pink eye symptoms, discontinue contact lens wear. See your eye doctor if your symptoms don't improve within 24 hours. 
Reading at Night Won't Damage Your Eyes
Another thing you may have heard growing up is that reading at night or in dim light will ruin your eyes. Luckily, reading when it's dark won't cause permanent damage to your sight. However, it will cause your eye muscles to work harder, making them become fatigued faster. You might also experience symptoms of eyestrain like headaches and shoulder and neck pain. 
Your eyes change as you get older, and reading under dim light might become harder. Good lighting and wearing up-to-date prescription glasses can help ensure comfort while reading. It will also be helpful to replace fluorescent bulbs with LED ones. 
Don't Wait to Experience Symptoms Before Visiting Your Eye Doctor
You don't need to wait until you experience problems with your eyesight before seeing your eye doctor. Regular eye checkups can help with the early detection and treatment of different vision-threatening eye conditions. They will be able to detect signs of health conditions that can affect the eyes, like hypertension and diabetes. 
Wearing Glasses Won't Weaken Your Eyes
A common myth about eyeglasses is that wearing them will make your eyesight worse. The truth is eyeglasses will help you see clearer and improve your quality of life. Wearing them won't cause any lasting effects on your natural visual capabilities. 
Your eyeglass prescription will likely change as you age, whether you wear your eyeglasses consistently or not. This is another reason you should get regular eye checkups. How often you need to update your prescription depends on how old you are. If you find it hard to read, your vision is blurred or you're experiencing frequent headaches, these are all signs that your vision may have changed and you need to update your prescription.
Using the Computer Won't Harm Your Eyes
There is a popular belief that using a computer or being too close to the television will harm your eyes. Extended exposure to screens will not permanently affect your eyesight, but it can cause symptoms of computer vision syndrome or digital eye strain. 
Text on digital screens are often not as sharp or contrasted as printed materials. Reflections and glare can also make using smart devices uncomfortable. These differences make your eyes work harder, resulting in headaches, blurred vision, dry eye, eye strain and neck and shoulder pain. Improper posture, uncorrected vision issues, poor lighting and incorrect viewing distances can also have an effect on your eyes.
Fortunately, there are several ways to avoid computer vision-related symptoms. It helps to give your eyes frequent breaks and adjust the settings of your screen. Make sure your eyeglasses are up-to-date and appropriate for computer use. Also, don't forget to blink to keep your eyes from drying out. 
All People Have the Same Eye Color
Regardless of race, everyone has the same eye color. The back of a human's eye is brown, and the different colors you see from the outside are due to the thickness of the iris. Your eye color also naturally changes as you get older. However, you might need to see a specialist if one or both of your eyes dramatically change in color as this might be a sign of eye disease. 
People with darker eyes have an increased risk of glaucoma. People with lighter-colored eyes, especially Europeans, are more susceptible to macular degeneration, a leading cause of vision loss worldwide. 
Never Sleep With Your Contacts In
Contacts are generally safe as long as you wear and care for them properly. Eye doctors strongly discourage wearing contact lenses in your sleep. It will significantly increase the risk of eye infection, which can potentially lead to vision loss. At the end of the day, you should remove your contacts and clean and store them in the solution recommended by your eye doctor.