Your eyesight plays a critical role in your health, safety and overall quality of life. You should have routine eye exams every  two years to stay on top of your visual health. In the meantime, if you experience any of the problems below, you should schedule an appointment with your eye clinic right away: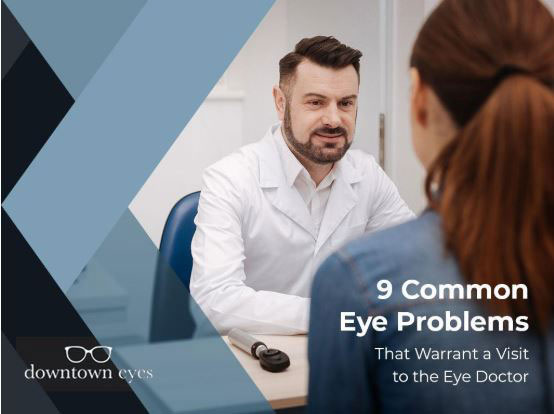 1. Sudden Vision Loss
If you lose vision in one or both eyes suddenly, you need immediate medical attention, as this could be indicative of a stroke or another serious condition. Partial vision loss, like blind spots, tunnel vision or a "curtain" covering part of your visual field, also requires immediate attention from an eye care professional. Complete or partial vision loss can indicate closed-angle glaucoma or retinal detachment, both of which are serious conditions that need to be treated promptly.
2. Eye Infection
Eye infections can worsen quickly, so head to an eye doctor right away if you experience this condition. Signs of an eye infection include redness, discharge from the eye, pain, feeling like you have something in your eye, blurred vision and sensitivity to light. In most cases, you'll just need a round of antibiotic drops to get things cleared up.
3. Eye Floaters
Eye floaters–those squiggly lines in your vision that are more noticeable when you look up at the sky or a white wall–are actually common and are nothing to worry about. However, if you've never noticed them before and suddenly have them, or are experiencing a major uptick in eye floaters, you should schedule a visit to the eye doctor. Alongside shadows or flashing lights in your peripheral vision, these could be a sign of a detached retina, which could lead to blindness if not addressed quickly.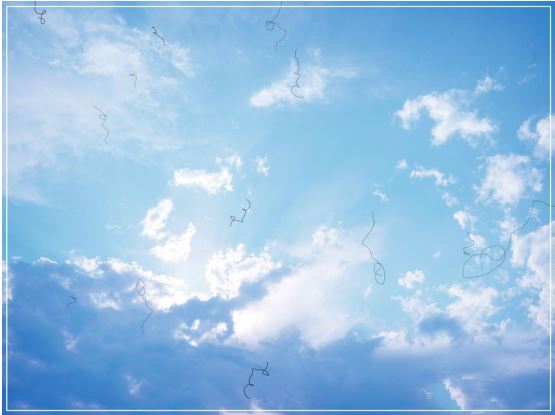 4. Eye Pain
Eye pain should never be ignored; working through the pain is never advisable! While eye pain can be caused by something as minor as dry eye, it can also be a sign of injury or a more serious condition like a scratched cornea, glaucoma or even eye cancer.
5. Squinting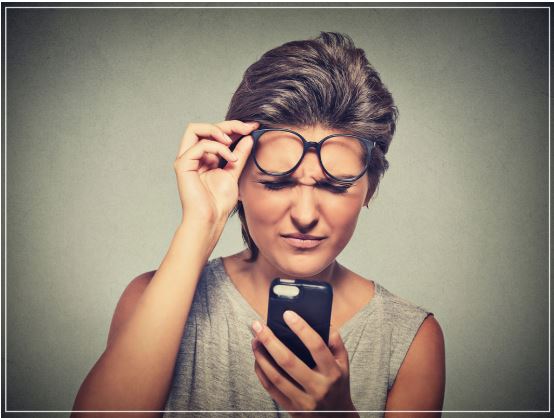 Squinting means you have to make effort to see better, so it could signify that you need vision correction. Depending on your preferences and the outcome of your visit to an eye doctor, you can wear eyeglasses or contact lenses, or even elect for corrective surgery.
6. Sensitivity to Light 
If glare or light starts bothering you, this could be a sign of cataracts, especially when accompanied by other symptoms of the condition such as double vision in one eye, blurred vision, halos around lights and night blindness. Sensitivity to light could also signify uveitis– severe inflammation inside the eye–or ocular migraines.
Other Health Problems
Though the next health problems are not directly related to your eyes at first glance, they can be due to a number of issues that can be identified with a routine eye exam.
7. Frequent Headaches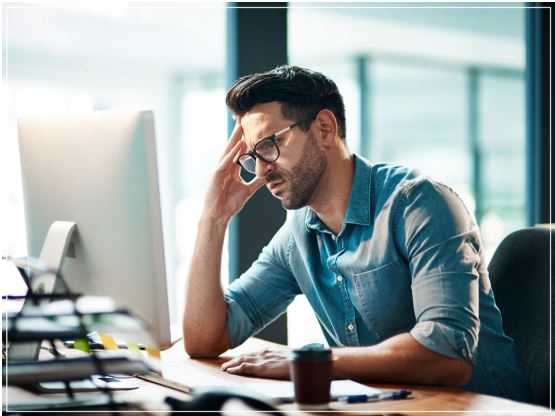 Sometimes, the remedy for frequent headaches is as simple as adjusting workplace lighting or giving your eyes time to rest every hour. However, a visit to an eye specialist can also bring to light more serious cases like glaucoma, astigmatism or long-sightedness, which will require more serious treatment.
8. Diabetes (or Being High Risk for Diabetes)
Monitoring your eye condition is one of the important aspects of dealing with diabetes, as this condition can damage the retina, and retinal damage can be seen in eye exams before vision loss occurs. Don't have symptoms? It's possible for someone to have perfect vision and still have diabetes. In fact, there have been instances in which the disease was identified for the first time with an eye exam.
9. Allergies
Sometimes itching, burning eyes can be the result of allergies. Mild eye allergies can be treated at home with artificial tears, antihistamines and reducing allergen exposure, but more severe reactions may need to be addressed with prescription eye drops and other medications, including allergy shots. Itchy eyes can also be a sign of pink eye or conjunctivitis, however, which may require antimicrobial eye drops.
Scheduling a Regular Eye Exam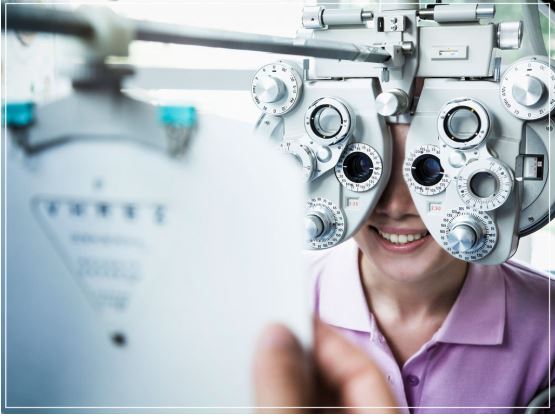 If you're not experiencing any of the symptoms above, it's safe to schedule an eye exam instead. Generally, this means seeing your eye doctor for a comprehensive check every year or two, depending on your risk factors, age and whether or not you are currently using vision correction aids like eyeglasses or contact lenses.
Children
With more than 80% of information in classrooms presented visually, it's crucial to make sure that your child is ready for learning by scheduling routine eye exams, starting with a first check when they are six months old. Subsequent eye exams can then be scheduled at age three and before they start school.
Children without risk factors can continue with routine eye checks every two years until they are 18 years old. Children with risk factors, on the other hand, may need to have their eyes checked before six months and may need more frequent exams throughout their childhood.
Risk factors include:
History of low birth weight or premature birth
Infection of mother while pregnant (herpes, veneral disease, rubella, etc.)
Developmental delays
Crossed or turned eyes
Family history of eye disease
High refractive errors
Physical disease or illness
Children wearing eyeglasses or contact lenses should also have annual eye exams scheduled.
Adults
For a lifetime of healthy vision, adults between the ages of 18 and 60 should undergo comprehensive eye exams at least every two years, while older adults aged 61 and up should have annual eye checks. For "at risk" adults, comprehensive eye exams should be scheduled more often.
Risk factors include:
A family history of eye disease (macular degeneration, glaucoma, etc.)
High blood pressure or diabetes
A visually demanding occupation or one that poses eye hazards
Taking prescription or OTC drugs with visual side effects
Previous eye surgeries or injuries
What to Expect During an Eye Exam
Exact tests carried out during an eye exam will vary depending on what your eye doctor feels is necessary to get a good grasp of your eyes' current condition. Given the complexity and the number of tests you have to undergo, it's not unusual for an eye exam to last an hour or more.
Some of the vision and eye tests you may likely undergo during a comprehensive exam include:
Visual Acuity Tests – To measure the sharpness of your vision
Color Blindness Test – To detect hereditary deficiencies in color vision
Cover Test – To see how well your eyes work together
Ocular Motility Test – To determine how well your eyes can follow moving objects and/or quickly move between and accurately focus on two separate targets
Stereopsis Test – To measure depth perception
Retinoscopy – To approximate eyeglass prescription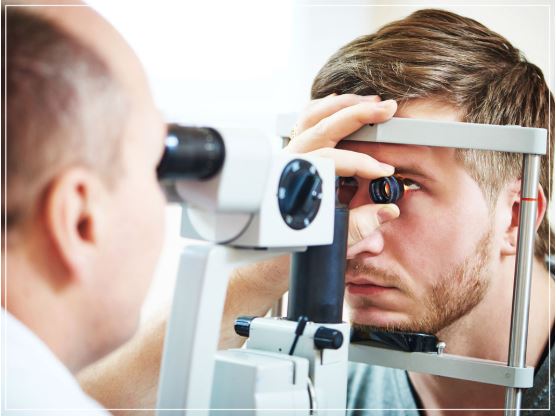 Refraction – To determine exact eyeglass prescription
Slit Lamp Test – To examine structures inside the eye
Glaucoma Test – To measure pressure inside your eyes
Pupil Dilation – To get a better view of the eye's inner structures
Visual Field Test – To identify blind spots in your side vision
Eye exams are carried out by optometrists or ophthalmologists. When you call to schedule a visit, don't hesitate to ask questions about the exam or the eye doctor who will be conducting the exam. Eye care professionals with your best interests at heart will have no problem providing you with the answers you need, giving you peace of mind that you are in good hands. To get started, simply follow the contact eye exam information you are provided with.