Choosing a new pair of eyeglasses is a big decision. To pick the most flattering, comfortable and practical pair, you need to consider several different factors: your lifestyle–i.e., whether you lead an active life with involvement in sports or other outdoor activities–your fashion sense and personality, your facial structure and your skin tone and hair color.

Of course, you also need to take into account your visual health and the reason you need eyeglasses. Are the glasses correcting a refractive error? Do you need them for reading or driving at night? Are you looking to invest in a special coating to protect your eyes from blue light?
Keep in mind that the glasses you choose should also suit your personality. That's why finding the perfect pair of glasses — especially if it's the first time you've needed eyeglasses — should be fun. Many factors will need to be considered to ensure you're making the right decision, but searching for the right pair should ultimately be fun, not frustrating.
For many people, glasses are also a fashion statement. Do you want to put off a sophisticated vibe, a no-nonsense, business vibe, a fun, quirky vibe or something in between? Are you style-conscious? Shy? Studious? Do you want to change your vibe and the way people perceive you? The right eyeglasses can help you present yourself exactly the way you want.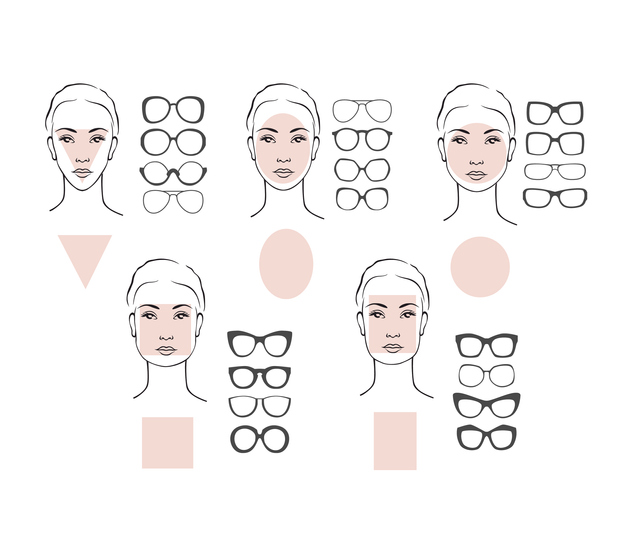 There are many factors that need to be considered to determine which frames are right for you. Your face shape, hair and eye color and personal style are just a few of the things you need to consider. General guidelines can help but, ultimately, your own personality and lifestyle are the most important factors.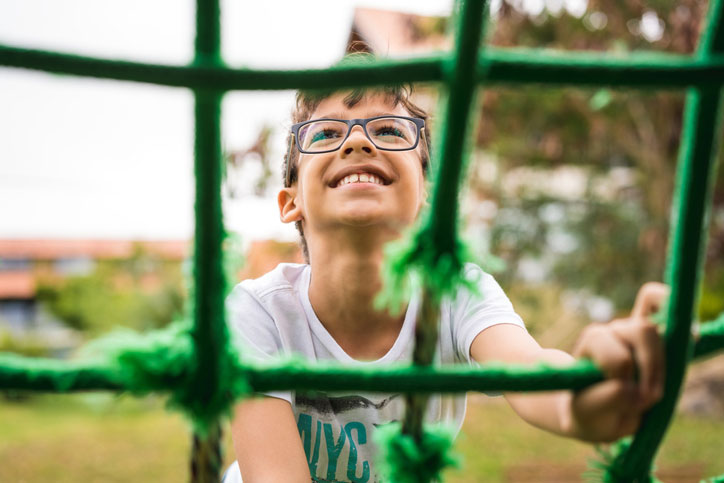 One other thing to consider in picking out your glasses is where you'll primarily be wearing them: Are you looking for glasses to wear in a work setting, sports activities or for going out? Different frames may suit different occasions, while some types of glasses are suitable for a wide range of activities and lifestyles.
In addition, some frames may seem to look great when you see them through the display window of the optical shop, but will be unremarkable when you actually try them on. Don't fret, there's bound to be a certain style of glasses that will look good on you. It's just a matter of taking the time to try on a variety of styles and colors.
Classifying Face Shapes
Your face shape will help determine which eyeglass styles will look best on you. Start by pulling your hair away from your face and closely observing the overall shape and contours of your face and head. Here are the basic head/face shapes: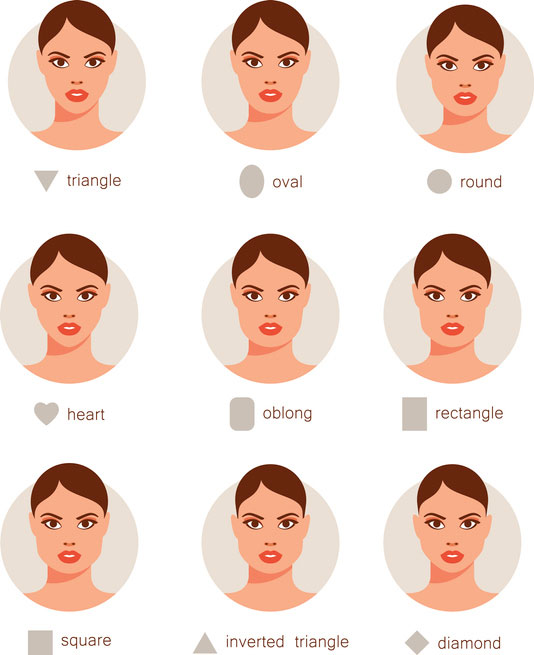 Oval
Balanced features and proportions make for an oval shaped face. To keep this balance in check, you'll want to choose eyeglass frames that are as wide as (or wider than) the broadest part of your face. Look for walnut-shaped rims that are neither too deep or too narrow.
Heart-shaped
If you divide the face into thirds, with the top third being widest and the bottom narrowest, that's a heart-shaped face. Reduce the apparent width at the top of the face with frames that are wider at the bottom. Thin, light-colored and rimless frames are good choices.
Oblong
A face that's longer than it is wide with a long, straight cheek line is considered oblong. Go for frames that have more depth than width or those with decorative temples to shorten the face and add width.
Square
Square faces have a h2 jaw and broad forehead, with width and length being of equal size. To soften  the angular look of squarish faces, pick narrow frames.
Diamond
Narrow at the forehead and jawline, diamond faces feature broad, high, and dramatic cheekbones. This is the rarest and often most prized face shape. Frames that have distinctive brow lines will highlight the eyes and soften the cheekbones.  Also try oval or cat-eye shaped glasses.
Round
Curved lines with the width and length in the same proportions and no angles make for a round face. You'll want a thinner and longer appearance, so try angular narrow eyeglass frames to lengthen the face and rectangular frames that are wider than they are deep.
Base-down triangle
The base-down triangle shape features a narrow forehead that widens at the cheek and chin areas. Add width and emphasize the narrow upper third of the face with frames that are heavily accented at the brow. Cat-eye shaped frames are also ideal.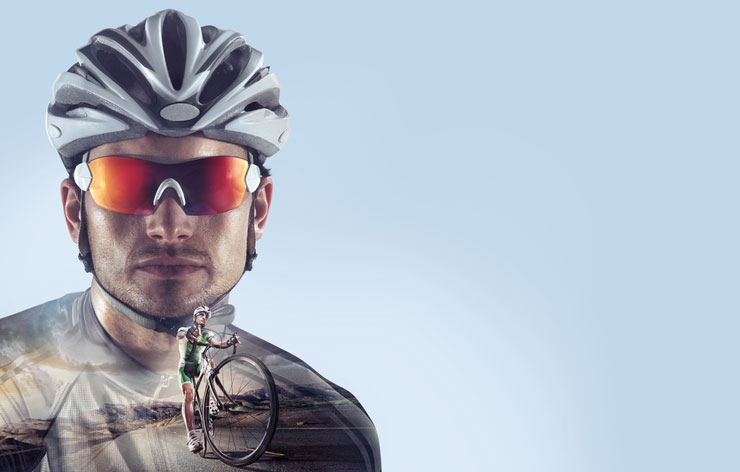 Lifestyle and Your Glasses
There are many aspects to your life and personality, which is why you may need more than one pair of eyeglasses. Many people have different eyeglasses for leisure and work, for sports and for fashion. In fact, eyeglasses are an affordable way to update your look without having to overhaul your wardrobe.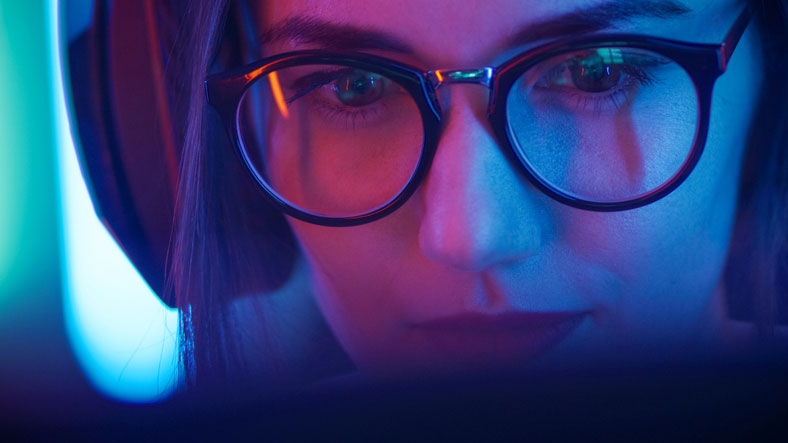 Eyeglasses can help create the image you want. Eyewear-styling experts recommend you start by considering the different aspects of your life. Ask yourself,  "What are the different activities I participate in? What type of work do I do?" This speaks to why people need more than one pair of eyeglasses, just as they need more than one pair of shoes. Are you a fast-paced businessperson, an outdoor enthusiast, a busy mom, a retired senior or a student?
To narrow down your choices, consider what eyewear experts suggest in terms of styling, color, material and size for various lifestyles.
Eyeglasses For Business
Conservative frame shapes and colors can help enhance your professional image. Choose:
Classic shapes such as ovals, rectangles and almonds.
Traditional colors like gold, silver, brown, gray and black.
No bright colors or unusual shapes in plastic frames.
Fashionista Eyeglasses 
You can express your creative, fashionista side is with modern shapes, such as geometric designs in thicker and larger plastic frames. There are also a variety of  modern metal frames that are creative in appearance. You might also like fashionable, larger-sized eyeglasses in unusual colors — such as blue, green and purple.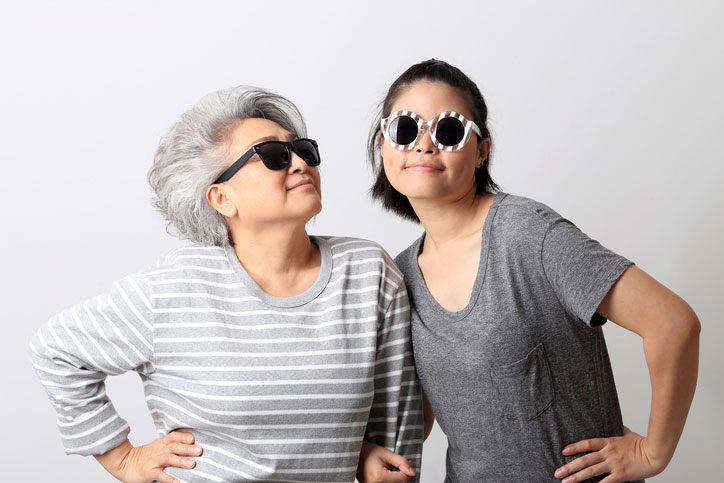 The Modern Baby Boomer
Even if you're old enough for an AARP card, you don't need to settle for stodgy, old-fashioned glasses. To look younger and more modern, go for frame shapes that lift the face, such as upswept rectangles for men and soft cat-eye shapes for women. Also go with colors like gunmetal, deep browns and burgundy for men and lighter, shinier hues for women.
Eyeglasses for Students
College is a time to develop your identity and show off your style. You have more leeway in styling, so play around with unusual shapes, bright colors, larger sizes and interesting details.
Eyewear for the Busy Mom or Dad
Are you a busy on-the-go mom (or dad) with little time to worry about the latest trends in eyewear? Then chooser a basic yet stylish pair of glasses. Functional ovals, upswept rectangles and soft cat-eye shapes look great and can be amplified with jewelry-like metal accents or interesting colors such as plum, deep red, soft green and black to add a fashion edge to the frame.
Contact Us
For more help choosing the right pair of eyeglasses to suit your personality, lifestyle and vision needs, contact Downtown Eyes today at (612) 333-EYES (3937). We look forward to working with you!
Downtown Eyes – Minneapolis
Call us today at (612) 333-EYES (3937)