Did you know that age-related macular degeneration (AMD) is one of the leading causes of blindness? Although AMD is a common eye condition, there are steps you can take to reduce your risk of developing it. In today's post, Downtown Eyes shares how you can lower your risk.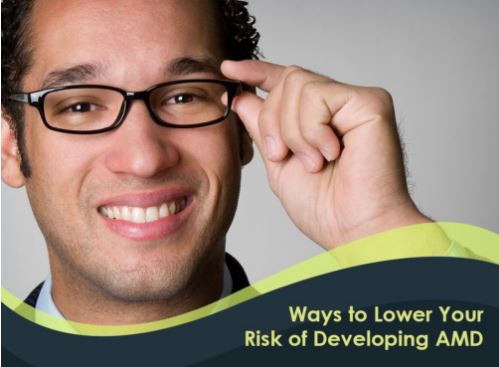 Studies reveal that smoking is a major risk factor for AMD development. Cigarettes contain toxins that speed up the deterioration process of your macula, increasing your risk of developing AMD. Quitting smoking can help you avoid AMD.
Eat Plenty of Leafy Greens
Your trusted eye doctor recommends including lots of dark, leafy greens in your daily intake. Research has shown that kale, spinach and collard greens have high levels of lutein and zeaxanthin. These antioxidants help fight off free radicals, which damage your eyes and can lead to AMD.
Exercise Regularly
Maintaining a healthy weight is another good way to reduce your risk of developing AMD and other eye conditions. Regular exercise is a great way to keep your weight at a healthy level. In fact, research has shown that individuals who lead an active lifestyle are 70% less likely to develop AMD.
Have Regular Eye Exams
Most importantly, visit your eye doctor or optometrist for a comprehensive eye exam on a regular basis. Doing so gives us an opportunity to detect any changes in your macula promptly. The sooner we establish AMD, the more effective our treatment will be.
Get in touch with us today at (612) 333-EYES (3937) or complete our form and learn more ways to lower your risk of developing AMD. We serve Minneapolis, MN, and nearby communities.