Learn More About Us
Get to Know Our Doctors & Staff
Downtown Eyes is a privately owned optometric practice with two convenient Minneapolis area locations. Our mission is to provide the highest quality eye care, eyewear and service to our patients. Our eye doctors perform eye exams, contact lens fittings, children/infant eye exams, LASIK surgery co-management, and treatment of eye diseases such as dry eye, diabetic eye disease, glaucoma, macular degeneration and cataracts. We utilize the latest technology and up-to-date instrumentation which allows us to give thorough eye examinations and the most accurate prescriptions.
At Downtown Eyes, we adopt a personalized approach for every patient. Our staff is friendly and welcoming – expect to feel at ease while undergoing an eye examination or treatment at Downtown Eyes! We also dedicate a considerable amount of time and energy to make sure we showcase a wide range of frames so that every person that walks into our office can walk out with high-quality, affordable frames that they love.
Convenient Eyecare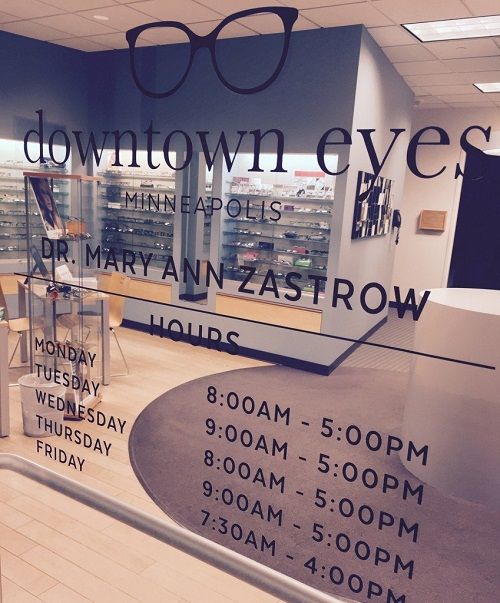 It's not until our eyes start to fail us that we realize just how much we depend on them. When you start squinting, experiencing headaches caused by eye strain or when you need new frames or contacts, an eye care specialist from Downtown Eyes will be here to take excellent care of you. Our doctors are experienced and dedicated to helping adult, child and infant patients. Allow them to help you see the world better than ever before!
Complete Eye, Vision Care & Optical Services
With the expertise of multiple eye care professionals, Downtown Eyes is able to take care of patients with many eye care and eye health needs. Services we offer include:
We can also help our patients successfully treat and manage a number of common eye diseases, such as:
Diabetic eye disease
Glaucoma
Macular degeneration
Cataracts
Downtown Eyes is your eye care headquarters. if you work downtown, please feel free to call or stop by our office, which is located in the skyway of the US Bancorp building between Target and Macy's. Or if you're in the suburbs, head to Downtown Eyes Crosstown in Richfield. Whether you need contacts or glasses or are having an eye emergency, our friendly staff and doctors will take care of you.
We are happy to work with your busy schedule and are confident we can find a day and time that is convenient for you.
Contact Us Today
Is it time for your eye exam? Schedule an appointment today by calling Downtown Eyes Minneapolis at (612) 333-EYES (3937) or Downtown Eyes Crosstown at (612) 869-1333. We also have a convenient online contact form right here on our site. We look forward to seeing you!