Dry Eyes
Dry eye syndrome is a chronic and often progressive condition affecting the surface of the eyes. Depending on its cause and severity, it may not be curable. In most cases, dry eyes can be managed successfully, usually resulting in noticeably greater eye comfort, fewer symptoms, and often, improved vision.
Dr. Mary Ann Zastrow and Dr. Robert Toomey are experts at diagnosing and treating dry eye syndrome and other ocular surface diseases. By utilizing the latest in technology, we can develop a treatment regimen designed specifically to manage your particular condition and help alleviate your symptoms.
Reasons for Dry Eyes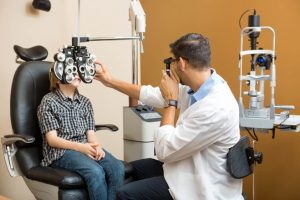 There are several reasons you might have dry eyes, including:
Long-term contact lens use
Natural aging (dry eyes are especially common for individuals over the age of 65)
Decongestants, antihistamines, antidepressants and other medications can dry the eyes out as a side effect
Pregnancy, menopause and oral contraceptives are a few reasons women are more likely to experience dry eyes
Dry environments and climates as well as wind and exposure to smoke can dry out the eyes
Diabetes, rheumatoid arthritis and thyroid problems and other health conditions have also been known to lead to dry eyes
We will be sure to accurately diagnose the reason for your dry eyes in order that we can develop the most effective and efficient solution. At Downtown Eyes, we don't settle for anything less than the complete reassurance and education of each of our patients.
Treatments for Dry Eyes
Dry eyes can be diagnosed through patient history, a thorough eye exam and by measuring your tears. Once we've determined for certain you have dry eyes, some of your treatment options include:
Eye drops to improve tear production
Eyelid cleaners to treat swelling around the eyelids
Blocking the tear ducts to conserve tears
Using artificial tear solutions to add tears to the eyes
Get in Touch With Us Today
Interested in learning more about effective dry eye treatment in Minneapolis? Call Downtown Eyes at 612-333-EYES (3937), or complete a Contact Us form here on our site.