Prescription Sunglasses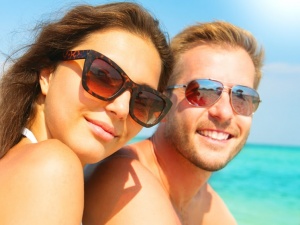 Protect Your Eyes While Looking Your Best
Shades can make anyone look their best when enjoying time in the sun, but sunglasses do more than up the cool factor. Downtown Eyes recommends that everyone wear sunglasses to protect their eyes when outdoors. Not only can a quality pair of prescription sunglasses protect the skin around the eyes from the sun's harmful rays, they can keep a number of harmful eye conditions at bay as well.
By not wearing a good pair of sunglasses, exposure to the sun's ultraviolet rays can lead to:
Cataracts, which is when the eye's lens clouds over and leads to blurry vision.
Pterygium, a growth of tissue over the eyes that can lead to astigmatism by changing the natural curve of the eyeball.
As you can see, you've got a lot to gain by protecting your eyes from the sun. Thankfully, Downtown Eyes has you and your eyes covered with a quality selection of sunglasses.
Only the Best to Help You Look & See Your Best
At Downtown Eyes, we pride ourselves on our use of cutting-edge vision technology and high-quality sunglasses. The designer brands we carry for our selection of eye protection from the sun's rays include:
Lafont
Ray Ban
Modo
Silhouette
Boss
Tom Ford
Kate Spade
Jack Spade
Pesol
Seraphin
Ogi
No matter your style or your price range, we're highly confident we can help you find the perfect selection to protect your eyes.