Technology
Cutting-Edge Equipment for Advanced Eye Care
Our goal at Downtown Eyes is to provide the best eye care in the business. Being at the forefront of technology in our industry allows us to not only do our jobs better, it also benefits our patients in many ways. We understand that our patients are busy. By being able to be drop into our office if necessary, patients don't have to worry about an interruption of their life due to vision problems. We promise to take care of you and your eyes, and these are just a few methods that allow us to do so.
Optomap® Retinal Exam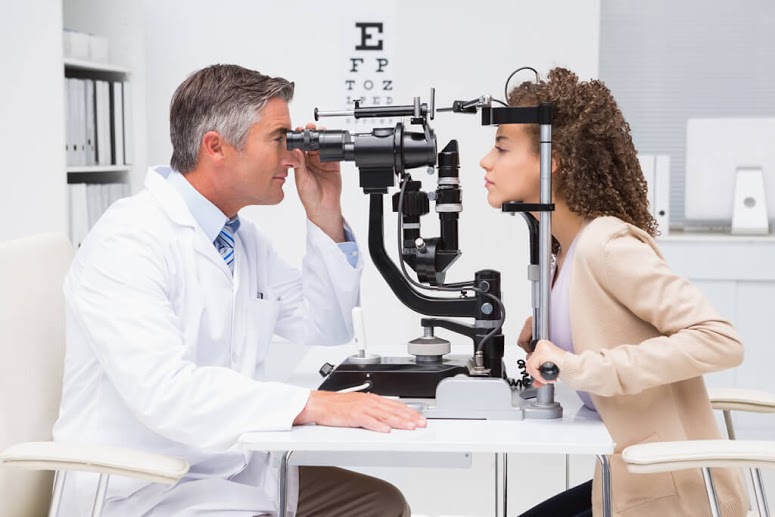 The Optomap® ultra-wide-field retinal image is a unique technology that captures more than 80% of your retina in one panoramic image, while traditional imaging methods typically only show 15% of the retina at one time. The two biggest benefits of the Optomap are early protection from vision impairment or blindness and early detection of life-threatening diseases like cancer, stroke and cardiovascular disease.
The Optomap exam is fast, painless, comfortable and suitable for the whole family. Nothing touches your eye at any time. Simply look into the device one eye at a time (like looking through a keyhole) and you will see a comfortable flash of light to let you know the image of your retina has been taken. The capture takes less than a second. Images are available immediately for review. See exactly what your eye care practitioner sees – without drops!
Marco® Automated Phoropter
Marco's latest generation of electronic refraction technology replaces the standard refractor and allows the doctor to conduct the most precise and accurate refraction in order to determine a patient's prescription. These automated devices provide equal or greater accuracy compared to standard manual phoropters. Additionally, they help guide patient decisions by comparing the new refraction directly to the previous one with a single touch of a button. Before leaving the room, you will have a clear idea of whether or not your prescription changed enough that you need an update.
Icare® Tonometer
The Icare® tonometer is an instrument that is used to measure the pressure of your eye during an eye exam. The measurement is barely noticed by the patient and also does not require any drops, which is the greatest benefit. The Icare tonometer allows us to measure, monitor and follow glaucoma patients or other patients with high pressure so that vision loss from various eye diseases can be prevented.