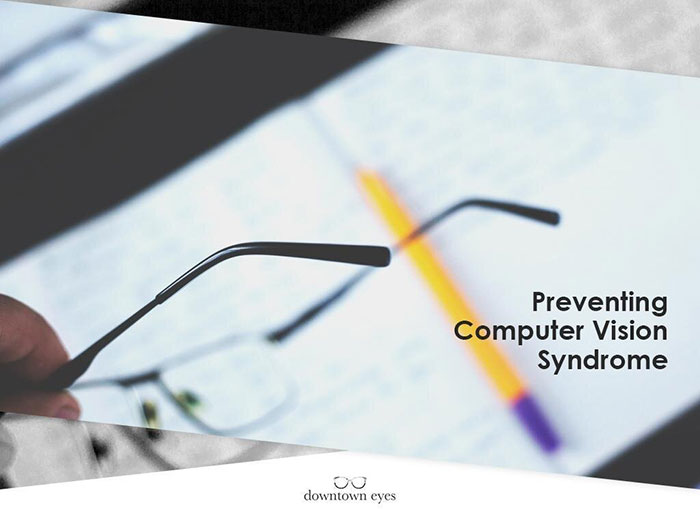 Prolonged use of a computer, smartphone tablet or e-reader can cause computer vision syndrome (CVS). Symptoms may include eye strain, dry eyes, double vision and more. These computer-related eye problems have become widespread. According to a 2015 survey by the Vision Council, 65% of adults in the country reported experiencing symptoms of digital eye strain.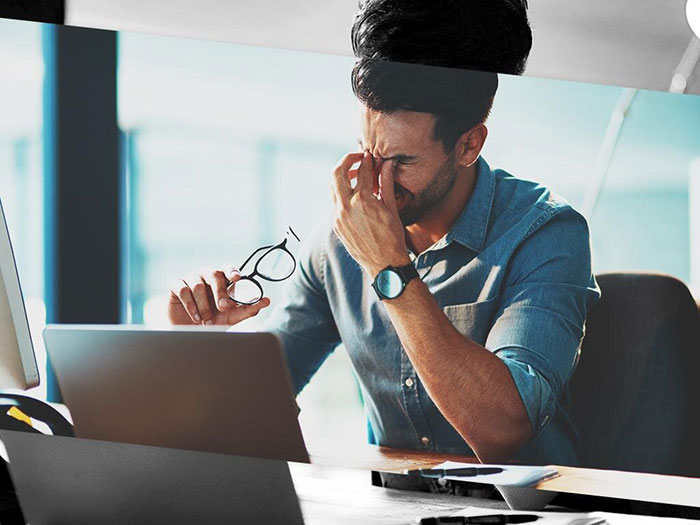 Using computers and smartphones for long periods of time is nearly unavoidable nowadays. We use these devices for both work and leisure. That's why it's important to understand what computer vision is and how to avoid it. In this article, Downtown Eyes explains everything you need to know about computer vision syndrome, including causes and symptoms and tips on how to avoid developing this condition. We'll also explain how our optometrists and optician in Minneapolis can help with this problem.
What Is Computer Vision Syndrome?
Computer vision syndrome refers to a collection of eye and vision-related problems that are associated with computer use. According to the US National Institute for Occupational Safety and Health, computer vision syndrome affects about 90% of the people who spend three or more hours per day at a computer. Some of the most common symptoms of computer vision syndrome include dry eyes, headaches, eyestrain, blurred vision and neck and shoulder pain.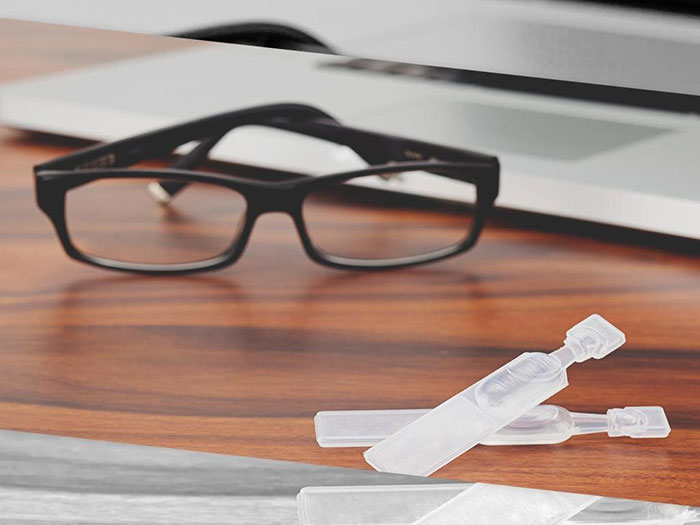 The extent to which people experience these symptoms often depends on the amount of time they spend looking at a digital screen and on the level of their visual activities. Fortunately, many of the visual symptoms experienced by people who suffer from computer vision syndrome are only temporary. The symptoms will decline after stopping the use of the digital device. However, some people may experience continued reduced visual abilities even after they stop using the device.
What Causes Computer Vision Syndrome?
Your eyes work harder when they view a digital screen. The unique visual demands and characteristics of a digital screen make many people vulnerable to the development of vision-related symptoms. In addition, uncorrected vision problems can also increase the severity of computer vision syndrome symptoms. Reading on a digital screen is different from reading a printed page. The letters on a screen are usually not as precise or sharply defined and the level of contrast of the letters to the background is reduced. The glare also makes reading more difficult on a screen.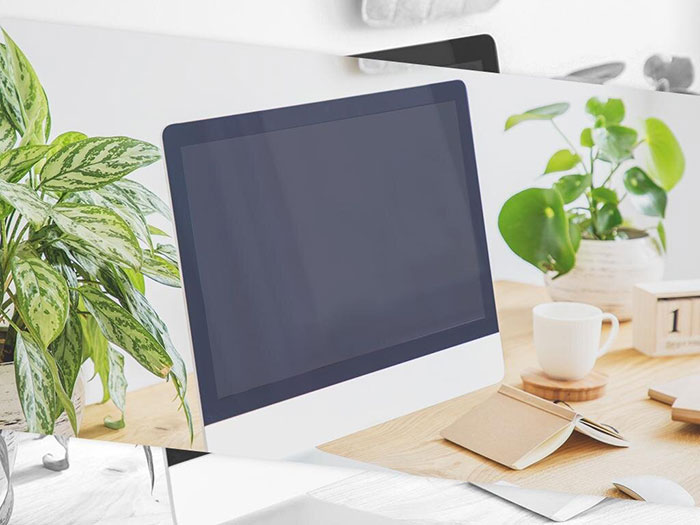 The viewing angle is also different, and this places additional demands on your eyes because the eye focusing movement requirements are more onerous than with reading a printed page. In many cases, symptoms of CVS occur because the visual demands of using a screen exceed the visual abilities of the individual. People who spend two or more hours looking at a digital screen every day are at the greatest risk of developing computer vision syndrome.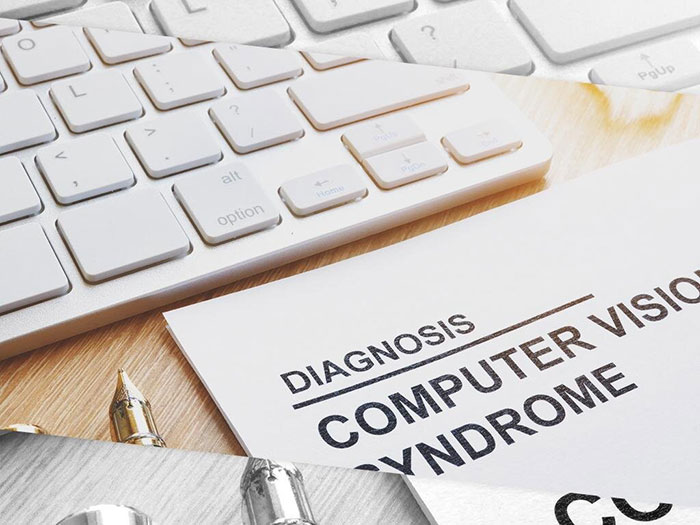 Diagnosing Computer Vision Syndrome
A comprehensive eye examination can diagnose computer vision syndrome. Your optometrist will review your medical history with you and will discuss your symptoms, the presence of any general health problems, environmental factors or medications taken that may be contributing to the condition. Your optometrist will also perform visual acuity measurements and test how your eyes focus, move and work together. The eye doctor will look for problems that could be keeping your eyes from focusing effectively. Your optometrist will use all of this information to help determine if you have CVS.
Treating Computer Vision Syndrome
There are many solutions to CVS, but most of them involve obtaining regular eye care and making changes to how you use digital screens. Your optometrist might suggest that you cut the glare and change the lighting around you whenever you use a computer. They might also discuss the optimal position for your monitor. In general, the monitor should be about 20 to 28 inches away from your face and at slightly below eye level.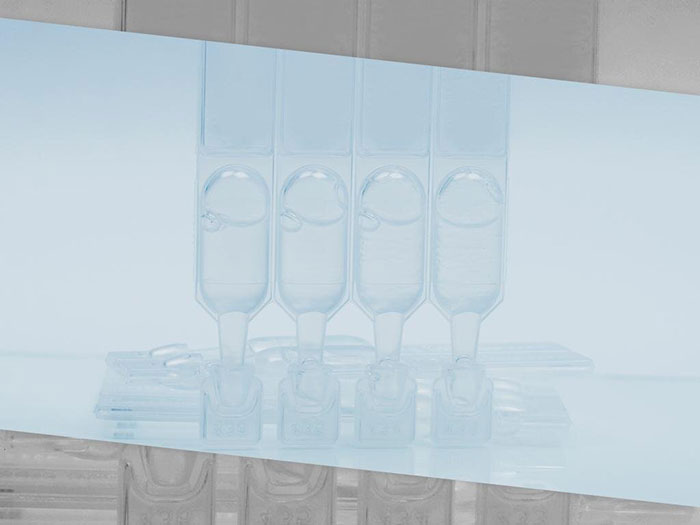 Your eye doctor might also suggest the 20-20-20 rule: after 20 minutes of screen time, look at an object 20 feet away for 20 seconds. This will give your eyes time to rest. You should also blink often to keep your eyes moist. If your eyes are dry, then your optometrist might prescribe some eye drops. They might also suggest the use of computer glasses to prevent eye strain.
Tips to Prevent Computer Vision Syndrome
Following the above advice even when if you haven't yet been diagnosed with CVS is a good idea, as this can help you avoid developing the condition. Here are a few more easy tips that can help reduce your risk of developing CVS.
Upgrade Your Computer Display – If you have not yet done so, then you need to replace your CRT monitor with a flat-panel LCD display. CRT screens can cause a noticeable flicker of images, which can strain your eyes. Fortunately, flicker is not an issue with LCD screens. When choosing your computer monitor, we recommend selecting a display that has a diagonal screen size of at least 19 inches.
Blink More – Blinking will moisten your eyes and prevent dryness and irritation. People blink less frequently when working at a computer, so you need to make an effort to blink more. During long non-blinking phases, the tears coating the eye evaporate more quickly. You need to blink to keep your eyes moist. Every 20 minutes, we suggest blinking 10 times very slowly.
Exercise Your Eyes – In addition to following the 20-20-20 rule, looking far away at an object for 10-15 seconds and then looking at something up close for 10-15 seconds, and then returning your focus to the distant object can help. You need to do this 10 times. Doing this exercise will help reduce the risk of your eyes' focusing ability locking up after prolonged viewing of a digital screen.
Use Better Lighting – Excessively bright light can cause eye strain. The ambient lighting surrounding you shouldn't be too bright when you use a computer. For example, many computer users find that they feel better when overhead fluorescent lights are turned off.
Schedule Regular Eye Exams – A routine comprehensive eye exam is the most important thing you can do to prevent computer vision syndrome. During your eye exam, make sure to tell your eye doctor how often you use your computer at home and at work. It also helps if you can measure how far your eyes are from the screen. Bring this measurement to your exam. Your optometrist can test your eyes at that specific working distance.
Take a Break – Neck, back and shoulder pain can be symptoms of CVS. You should take frequent breaks during your work day to prevent this. During breaks, stand up, move about and stretch your neck, shoulders, back, legs and arms to reduce muscle fatigue and tension.
Adjust Your Workstation – Simple changes can have a big impact on preventing computer vision syndrome. Sit in the correct posture to reduce the risk of CVS. Adjust your chair and workstation to the correct height. Position your computer screen 20-28 inches away from your eyes.
Our eyesight greatly affects our well-being, so you should make the time and effort to take care of your eyes. Follow our tips and make sure not to use your computer or smartphone excessively. You should also schedule regular eye exams with a trusted optometrist. Your eye doctor can prevent vision problems and help you see the world better than ever before.