Providing the Best of Care With the Best of Products
Downtown Eyes strives to take excellent care of your eyes by utilizing the most trusted brands, products and technology. We realize how much our reputation hinges on the overall quality of our products and services, which is why we go well out of our way to offer our patients the best of the best. Know that our choices benefit you just as much as they do us.
Eyeglass Frames
We fully realize that glasses have become more fashionable, even being worn by those who don't need them. For those of us who do need quality lenses and frames to see the world and everything in it better, know that Downtown Eyes offers nothing but top quality manufacturers. Examples of brands we carry include: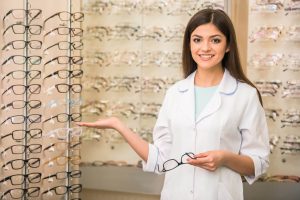 Lafont
ProDesign
Silhouette
Fysh
Polo Ralph Lauren
Modo
Ray-Ban
Seraphin
With such a generous variety, we're sure it will be no problem for you to find the perfect frames for your new lenses. In addition to helping you find the right selection for your personal tastes, we also want you to find frames that are the perfect match for your budget.
Contact Lenses
The contact lens brands we carry are just as exemplary as our selection of frames. We strive to make sure we have something that matches everyone's individual eye care needs, which is why we offer selections from:
FreshLook
Proclear
Biofinity
Bausch + Lomb
Air Optix
Acuvue
If you're thinking of getting contact lenses for the first time, we can walk you through properly putting them in, taking them out and caring for them. To ensure you're never without a way to see things clearly, we recommend getting a backup pair of glasses whether you're wearing contacts or regular frames.
Check Out Our Products
Interested in learning more about our products or services? Pick up the phone and call a representative at 612-333-EYES (3937). Alternatively, you're welcome to submit an online contact form as well.