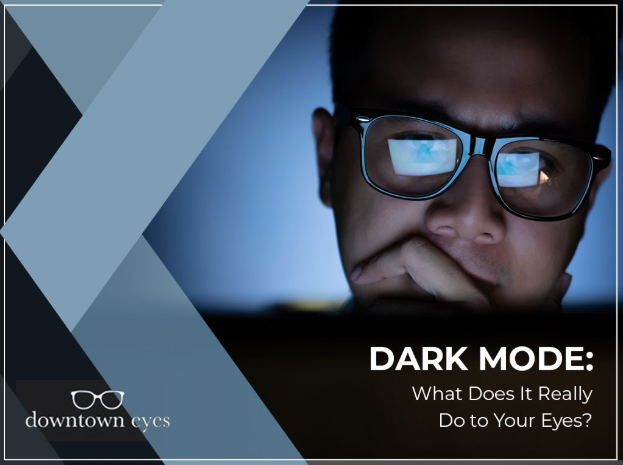 Dark mode, also known as night mode, is a setting that has become popular across different online platforms and digital devices. It presents a high contrast or inverted colored display, claiming to ease eye fatigue from stark bright white screens. However, is switching into the dark mode really better for your eyes?
In this post, an eye specialist explains what dark mode really does to your eyes.
Into the Dark
Most apps, websites, and devices support dark mode. Instead of projecting a white background with black text, this setting shows a black background with white or colored text. It aims to make viewing easier and more comfortable at night.
Apple's System 7 OS was one of the first modern operating systems to offer this darker alternative. It launched in 1991 and had an inverted color scheme for people with visual impairment. CloseView lets users shift between the usual black-on-white scheme and a white-on-black one. Later, Windows 95 also introduced a similar feature.
In 2016, Twitter made night mode available for Android devices. You can see it in your drop-down settings as a half-moon circle, which when you tap will instantly darken your display. Soon more popular platforms started offering dark mode, including YouTube, Reddit, Facebook Messenger, and more.
Making Text More Legible & Extending Battery Life
In 2013, psychologists Cosima Piepenbrock and Susanne Mayr published a study that found accuracy and performance are better in positive polarity conditions, for instance, black text on a white background. Participants in the study accomplished visual acuity tests and proofreading tasks. Your pupils constrict when looking at a bright background, increasing acuity while viewing text. Meanwhile, when looking at a black background, the opposite happens. Having dilated pupils will make it difficult to focus on the text.
Depending on the type of screen your device has, switching to dark mode can help save battery. Organic light-emitting diode screens in dark mode offer battery-saving benefits. In this screen, each pixel lights up individually, which means that when the black pixel is deactivated. However, older LCD screens are backlit, meaning the pixels stay lit even when the display is black. The iPhone X was the first Apple phone to feature an OLED screen. Samsung and Huawei also offer handsets with OLED displays.
Sleep Better With Dark Mode
Using digital devices exposed you to blue light, which can affect sleep patterns. A 2018 study suggests that blue light can contribute to the development of macular degeneration. However, the American Academy of Ophthalmology (AOA) denounced this study due to the lack of real eye mechanisms and not taking cells from the eyes.
Moreover, iPads and LED screens can generate blue-white light that's enough to affect melatonin production and circadian rhythms or sleep-wake cycles. True dark modes lower the levels of blue light emissions in screens. This can also be achieved by switching into dark modes that produce orange hues, which has less effect on melatonin. It still best to avoid using digital devices at least an hour before going to bed.
Dark Mode & Eye Strain
People tend to blink less when using computers for extended periods of time, which can contribute to eye strain and dry eye. According to a published study in the British Medical Journal, up to 50 percent of computer users experience computer vision syndrome or digital eye strain (DES). When you are in front of a screen, your blinking rate can go as low as 3.6 compared to the standard 15 blinks per minute.
Digital eye strain refers to a group of eye and vision-related problems as a result of extended computer, tablet, or mobile phone use. The level of discomfort an individual can experience can increase with the amount of screen time. The average American worker faces the computer at least seven hours daily.
Sufferers usually experience eye strain, headaches, blurred vision, dry eye, and neck and shoulder pain. These symptoms are commonly triggered by poor lighting, improper viewing distances, glare on digital screens, and poor seating posture. Uncorrected vision problems, such as farsightedness and astigmatism can also contribute to DES.  Many of these symptoms are temporary and go away when not using the device anymore. However, some may still experience reduced visual abilities like blurred vision even after stopping computer use. Not addressing the cause of the problem can worsen the symptoms.
The text on a digital screen is usually not as sharp as a printed one. Often, the contrast between the background and the text is reduced. Glare and reflections can make reading even harder. Viewing distances and angles for computer use also differs from reading or writing tasks. The increased eye focusing and eye movement requirements can strain your visual system. Even eyeglass and contact lens wearers may find it difficult to view screens at a distance. Some would have to tilt their heads at awkward angles since their eyewear isn't suitable for computer use. They can also bend nearer to the screen to see the text clearly. Poor posture can cause pain in the neck, shoulder, or back.
Further, the effects of using dark mode on your eyes depend on the environment you are in. A bright screen can increase the likelihood of DES in a dimly lit room where your screen is the main light source. In dark conditions, darker colors can be less hard on the eyes, causing people to use the app more. On the other hand, in bright conditions, a dark screen will make your eyes work harder. If you're experiencing eye strain or dryness, you should consult an eye doctor. For a comprehensive eye exam, contact Downtown Eyes. We use the latest technology for all our eye care services.
Tips for Easing Digital Eye Strain
Use Proper Lighting
Too much sunlight and interior lighting can both cause eye strain. While using a computer, your ambient lighting should be half as bright as usual office lighting. Reduce outdoor light by closing drapes, shades, or blinds. For interior lighting, use fewer light bulbs or fluorescent tubes. You can also opt for lower intensity bulbs. As much as possible, place your computer screen beside windows and not in front of or behind them. It would also help to position your computer away from overhead fluorescent lights.
Minimize Glare
Glare from your computer screen can contribute to DES. You can place an anti-glare screen on your display or wear glasses with an anti-reflective coating. This coating minimizes glare by reducing the amount of light that reflects off the surface of eyeglass lenses.
Adjust Display Settings
Modifying your display settings can help in easing eye strain. Adjust the brightness of your screen similar to the brightness of your surroundings. Changing text size and contrast can make you more comfortable while working on long documents.
Give Your Eyes a Break
Rest your eyes from time to time to prevent eye strain. Take a break from computer use every two hours. while on a break, walk around or stand up and give your legs, arms, back, and shoulders a stretch. You can also practice the 20-20-20 rule where you look 20 feet away from your computer for 20 seconds every 20 minutes.
Visit Your Eye Doctor Regularly
Regularly visiting your local eye clinic is essential in preventing and treating digital eye strain. Make sure to tell your eye doctor all the symptoms you're experiencing as well as how long you use your computer and digital devices.