After a contact eye exam, your doctor might recommend scleral lenses if they find that you have severe dry eye syndrome, keratoconus or other corneal irregularities. These gas permeable (GP) lenses rest over the corneal surface and the sclera or the white of the eye. They have a larger circumference than regular contact lenses, providing wearers with better comfort and clearer vision.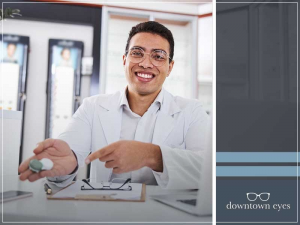 Scleral lenses require different care than conventional contacts. Here are the do's and don'ts of wearing scleral contact lenses. 
What Are Scleral Contact Lenses?
Have you been told in the past that contact lenses are not ideal for you? If so, you might want to get a second opinion and ask about scleral contacts. They have a larger diameter than standard GP lenses, offering wearers sharper vision and a lower risk of complications. These lenses are also easier to care for and are more durable. 
Thanks to the size of scleral lenses, they are more likely to remain in place than your usual GP lenses. This means the chances of them getting dislodged from the eye are lower. Patients can experience better comfort while wearing them because they are more stable. Wearing scleral contacts can be just as comfortable as wearing soft lenses. 
Scleral contact lenses come in three categories, depending on their size and where they rest on the eye's surface. Corneo-scleral and semi-scleral lenses are significantly larger than standard GP lenses and rest near where the cornea and sclera meet. Mini-scleral lenses cover the entire corneal surface and lie on the anterior sclera. Then, there are full scleral lenses, which have the largest diameter and space between the back surface of the lens and the cornea. 
Good Candidates for Scleral Lenses
People With Dry Eyes
Dry eyes can occur when your eyes don't get sufficient lubrication from your tears. You can develop this condition if your eyes don't create enough tears or if they produce low-quality tears. Common symptoms include blurred vision, eye fatigue, light sensitivity, a burning sensation in the eyes and eye redness. 
If you have dry eyes, you may find it uncomfortable to wear standard contact lenses. Your eye specialist might recommend scleral lenses if this is the case. The clearance between the back surface of these lenses and the cornea helps keep the front of your eyes lubricated. 
Patients With Irregular Corneas
An irregularly shaped cornea can cause vision problems like keratoconus. However, it can also occur due to eye surgery. Soft contact lenses or even eyeglasses might not be ideal options for people with these conditions. Fortunately, patients may experience clearer vision and better comfort from scleral contact lenses. 
Individuals With Hard-to-Fit Eyes
Do you feel uncomfortable wearing standard GP lenses? If so, consider asking your eye doctor about scleral lenses. These lenses are less likely to get dislodged even if you have irregularly shaped eyes. This means you don't need to worry about discomfort and your contacts accidentally shifting.
What Are the Do's of Scleral Contact Lens Wear?
Good Hygiene Is Key
Always wash and thoroughly dry your hands before handling your contact lenses. Proper hygiene is essential in preventing eye infections and other complications. You should regularly clean your scleral lenses and keep them free of debris. Keep in mind that buildups can affect the clarity of your contacts. After removing your contacts, rub them for a few seconds with the proper lens cleaner to get rid of bacteria and debris. Rinse both sides of the lenses with saline solution before storing. 
Use Cotton Swabs for Cleaning
It can be more difficult to clean scleral lenses if you have long fingernails. What you can do is use a cotton swab instead of your fingers. With a cotton swab, rub the inside bowl of the lens with a cleaning solution to eliminate any buildup. Once you're done cleaning the lenses, rinse them off with saline to remove any remaining cleaning solution and cotton swab lint. 
Address Dry Eye s
Scleral contact lenses can help relieve dry eye symptoms, but you should still address the eye condition. While scleral lenses help manage dry eyes, they don't treat the condition. See your eye doctor to determine the ideal treatment option for you. They might recommend medications or eye drops to help with lubricating your eyes.
Use Insertion Tools
If you're having trouble with the insertion method or tool you are using, try to use something else. Your eye doctor can recommend tools you can use for your scleral lenses. Remember only to use tools that your eye specialist recommends. 
See Your Eye Doctor Regularly
Since scleral lenses are custom made, you'll need to see your eye doctor regularly to ensure they fit properly. Follow-up visits to your eye clinic can help you keep track of the condition of your lenses. You should also let them know if your lenses are causing you discomfort or problems. 

What Are the Don'ts of Wearing These Lenses?
Using a Different Solution Than What's Recommended by Your Eye Doctor
You should never use a solution not recommended by your eye doctor, no matter what kind of contact lenses you have. Running water, saliva and other fluids are not supposed to be used for cleaning and storing contacts. They contain germs that can be harmful to your eyes. 
Failure to clean your lenses with the proper solution can result in eye symptoms like redness or the sensation that there's something in your eye. These symptoms usually won't go away once they start and will eventually result in infection. You'll then need to seek help from your eye doctor. 
Sometimes, it can take up to a few weeks for the medicine to work and your eyes to completely recover. In the meantime, you won't be able to wear your contact lenses. While you're undergoing this treatment, it might be difficult for you to perform daily activities such as reading, driving, cooking and working. 
Wearing Scleral Lenses for Too Long
It isn't uncommon for keratoconus patients to wear scleral lenses all day. When wearing your contacts for extended periods, be sure to lubricate them properly to avoid overwear. Poor lubrication can result in issues like inflammation, irritation and infection. Don't hesitate to ask your eye doctors for high-quality artificial tears they can recommend. If you are out of town and you run out of eye drops, look for products without preservatives. 
Sleeping With Your Scleral Lenses On
Sleeping in your contact lenses is not a good idea, and experts don't recommend it. When you blink, your eyes release tears that flush away dirt, dust, bacteria, proteins, allergens and other debris. You're not blinking when you are asleep, meaning these harmful substances are more likely to accumulate in your eyes if you sleep in with your scleral lenses. As a result, failing to take off your contacts before sleeping can lead to eye inflammation or infection. 
Delaying Eye Doctor Visits and Contact Lens Replacement
Specialists can't stress enough the importance of seeing your eye doctor regularly. Scleral lens wearers might need to visit their eye clinic more frequently. If you wear this type of contact lens, you usually need to schedule appointments every four to six months. Consistently following your eye checkup schedule will help your doctor keep track of your eye health, any changes in your eyes and the efficacy of your prescription.